Who doesn't love Mac and Cheese? Talk about a comfort food! It is creamy, rich, filling and oh so delicious. This dish is kid friendly and hearty enough to be eaten as the main meal. You can add protein to make it a more complete meal or serve it as a side dish. This from scratch Mac and Cheese has only 6 ingredients and can be whipped up fast. . . Make it on the stove top, Instant Pot or even a slow cooker to make it extra easy. I promise you will love it too!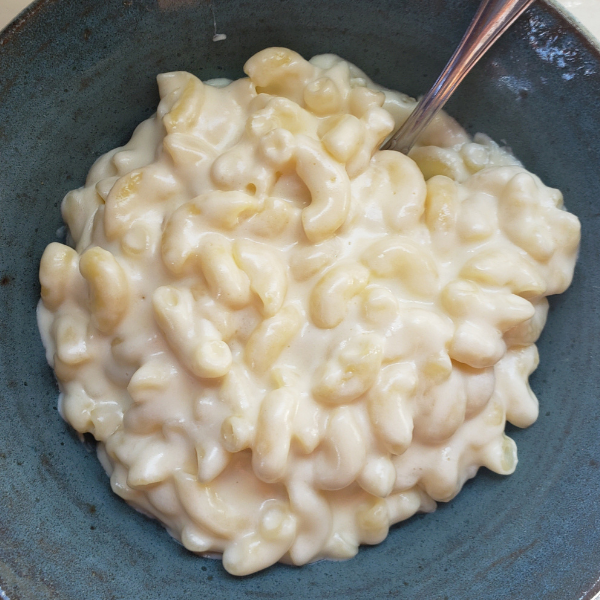 This post may contain Amazon Affiliate Links, which means I make a small commission at no extra cost to you. See my full disclosure at homemakingwithoutfear.com. Furthermore as an Amazon Associate, I may earn from qualifying purchases.
What's not to love about Mac and Cheese from scratch?
Mac and cheese is just a comfort food classic. I grew up eating boxed mac and cheese and top ramen and loved it. While I still love top ramen in all it's processed glory, I don't eat it or boxed mac and cheese very much anymore. I don't really like boxed mac and cheese anymore. . . I guess I'm just spoiled by this homemade version.
My kids still love it and my husband loves it too. So, on lazy nights you just might find hot dogs and Mac and Cheese in this house.
This homemade version is just about as easy as the boxed kind. I have made it in HUGE batches ((think 60 youth group kiddos!!)) on the stove top and it turns out beautifully every time.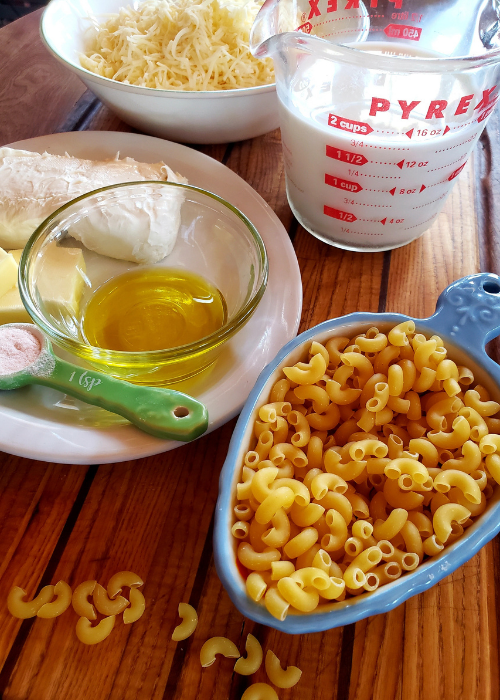 While I recommend using a smooth melting cheese, you really can use any cheese or any combination of cheeses that you like.
The night I made this to photograph, I used a raw milk white cheddar from Azure Standard. . . it doesn't melt quite as smooth as some cheeses but man does it have amazing flavor.
This particular recipe is really great because you have the option to partially cook the noodles, put everything in a crock pot or Instant Pot on low or "keep warm" and in a couple hours have a full meal. This helps cut down on kitchen time, is great for garden season or sports . . . anytime you need to run out for a few hours and want to come home to a warm meal waiting for you!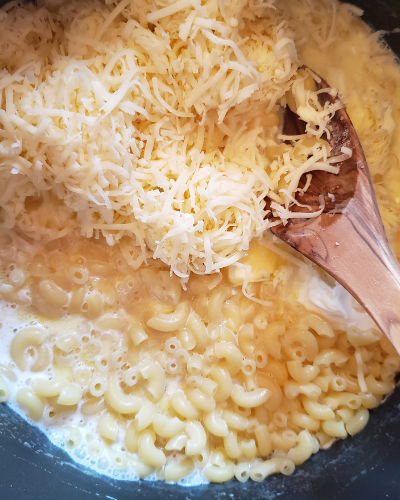 The BEST Cheeses for your From Scratch Mac and Cheese:
Fontina – medium to sharp cow's milk cheese that is mild and nutty. It has a soft texture and melts very well. Great for mac and cheese or fondue!
Gruyere – a hard yellow swiss cheese that has a slightly sweet and salty taste. This is another fantastic smooth melting cheese.
Parmigiano -Reggiano- hard, dry cow's milk cheese with rich, sharp and often nutty flavors. When grated and melted into white sauce it creates an Alfredo mac and cheese.
Cheddar (white or orange) – a relatively hard cheese originating in England. It's sharp flavor makes for a fantastic mac but the as it melts it tends to "break" or become grainy instead of smooth.
Monterey Jack Cheese- a semi-hard cow's milk cheese has a mild and slightly sweet flavor. It melts very well and is perfect for Mac and Cheese.
OR if you desire a more processed but extra creamy cheese route *GASP* there is American or dare I say . . .Velveeta!!! (I know, I know they aren't "real" cheeses but BOY do they melt smooth and glossy)
What you will need to make from Scratch Mac and Cheese: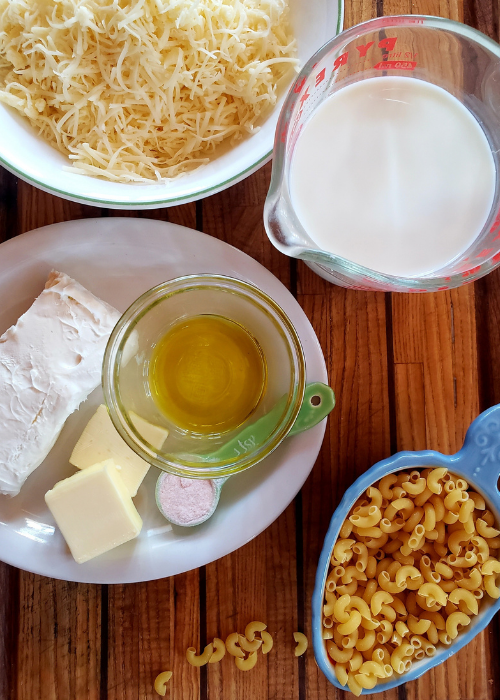 Macaroni noodles or other dry pasta (Gluten Free if you prefer!)
Milk
Butter
Olive oil
Cream cheese
Shredded cheese
Salt
Boil noodles according to package directions.
If you are making this to finish in a crock pot or Instant Pot, cook noodles a couple minutes shy of done. (They should be slightly hard)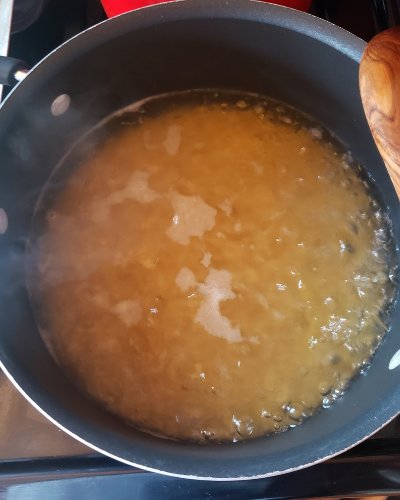 For Crock-pot or Instant Pot: Strain noodles then add them to a crock-pot or Instant Pot. I would highly recommend using a crockpot liner to make clean-up less messy! Add olive oil, butter, milk, cream cheese and salt. Set the crock pot or InstantPot to Keep low/warm for 2 hours, stirring occasionally. The ingredients don't need to cook – just to melt stay warm and wait for you to devour.
Stove top: This finishes very fast on the stove top so for this method put the strained noodles back in the cooking pot, add the olive oil, butter, milk, cream cheese, cheese and salt. Cook on low and stir until melted.
Add more salt and pepper to taste.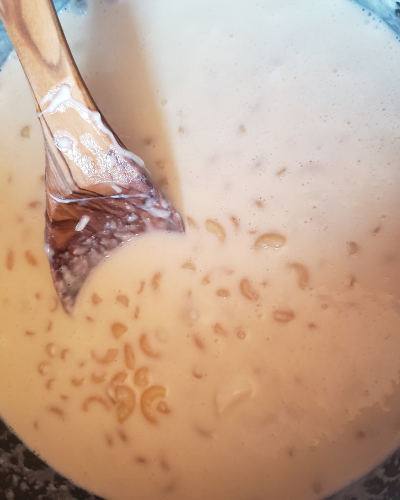 From Scratch Mac and Cheese: The Variations
Now it is hard to beat the plain version. It is full of flavor and far from plain BUT I do have a few ideas to BEEF up the flavor or make this dish less of a side and more of a MAIN.
If you prefer GLUTEN FREE substitute macaroni noodles for a gluten free version of your choice. If you are in the market for gluten free pasta, Jovial Foods makes an amazing brown rice pasta that is non-GMO, whole grain, and organic. It tastes amazing and holds up very well to this heavy cheese sauce. Jovial is a small family company that sells ancient einkorn flour, olive oils, tomato products that I love and use all the time and so much more. I would highly recommend any of their products and if you are looking for a gluten free option, I know you will love Jovial Foods Gluten Free Pasta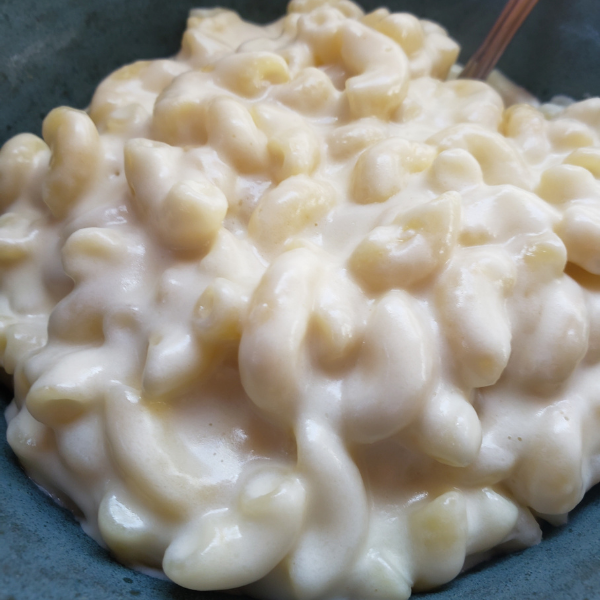 You can add protein, veggies and even beans!
Here are a few of my favorite additions and variations.
Crumbled bacon. . . because . . . B-A-C-O-N
Ham – cubed ham is a classic with mac and cheese – stir it right into the pasta and let it get warm right before serving.
Ground beef – brown the beef separately and stir into the mac and cheese before serving. Cheeseburger Macaroni!
Chicken – cube chicken breast and saute or use shredded cooked chicken and add right before serving.
Seafood – shrimp, crab or even lobster if you are feelin' FANCY. Precook the seafood and add it right before serving. Mac n cheese made with Gruyere, fontina and Parmesan is AMAZING with seafood.
Peas – simply add fresh or frozen peas when you add the milk. They will cook as the cheese melts.
Broccoli – fresh or frozen, either way add it when you would add peas.
Chili beans – drain chili beans and add to the mac and cheese with all other ingredients. Chili-Mac is a favorite!!
Thank you for checking out this family favorite recipe. It is great for those busy weeknights or nights when everyone just NEEDS comfort food. We so enjoy having you here and sharing what we love with you all.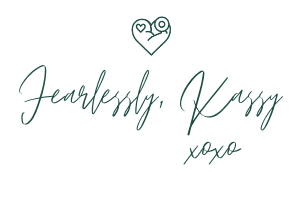 Checkout another family-favorite pasta dish:
Pin it for Later: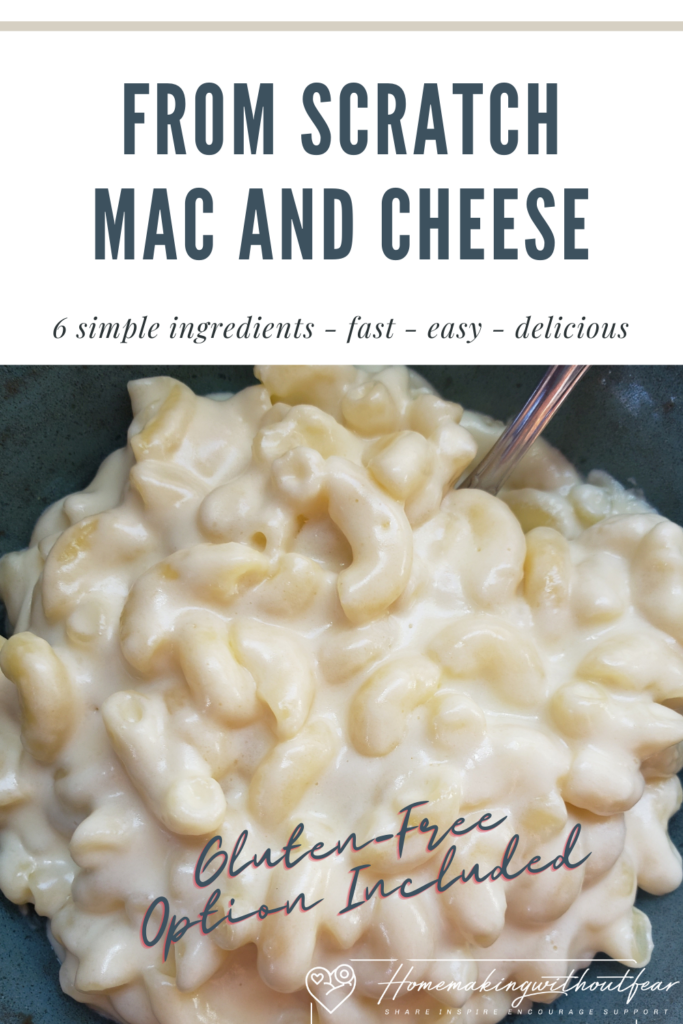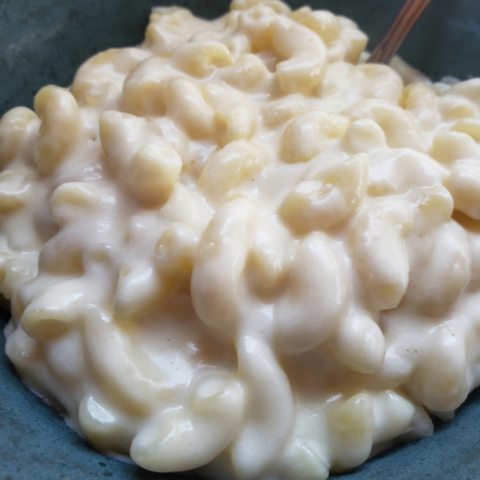 Macaroni & Cheese
This 6 ingredient from scratch macaroni and cheese couldn't be more delicious or easier to make. Simply boil your noodles, add the rest of your ingredients, melt, stir and enjoy. Use any cheese or combination of cheeses you like to customize flavor. Add meat: bacon, burger, seafood or even chili beans to make a hearty main dish or serve it as a side. Whatever you like, this kid friendly recipe will be a well loved staple in your kitchen.
Ingredients
2 C. dry macaroni noodles
2 Tbsp. butter
2 Tbsp olive Oil
1 3/4 cups whole milk
3 cups shredded cheese
4 oz cream cheese
1/2 tsp. (or more to taste) salt
Pepper to taste
Instructions
Boil macaroni according to package directions. If you are making this to finish in a crock pot or Instant Pot cook, noodles a couple minutes shy of done. (They should be slightly hard)
Drain water off of noodles and add them to crock-pot or Instant Pot liner. If you prefer to finish this recipe on the stove top, simply put pasta back into the cooking pot.
Add: butter, olive oil and stir until noodles are coated.
Mix in: cream cheese, shredded cheese, milk and salt.
For stove top method, stir well and cook on low or simmer until bubbly and melted. For Instant Pot or Crock pot, put on lowest setting and keep warm for 2 hours, stirring occasionally.
If you like pepper in your mac and cheese, add it to taste at the end.
Add optional mix-ins and serve right away.
Notes
Optional mix-ins:
cooked broccoli
bacon
hamburger (Cheeseburger macaroni)
Chili beans (Chili-Mac!!)
crab, shrimp or lobster (Fancy!)
IF YOU ARE MAKING THIS IN A CROCK POT, I HIGHLY RECOMMEND USING A CRACKPOT LINER FOR EASY CLEANUP.