Wooden kitchen tools have found a permanent place in my home. Salad bowls, wooden spoons and spatulas, cutting boards, rolling pins, butcher block. . . they are all essential WORKHORSES in my kitchen. They last longer and are healthier for our families and the environment than plastic tools. Good quality, wooden kitchen tools are an investment so it is important to care for them. Make this EASY "spoon butter" recipe to nourish, condition and REVIVE your tired, wooden kitchen tools.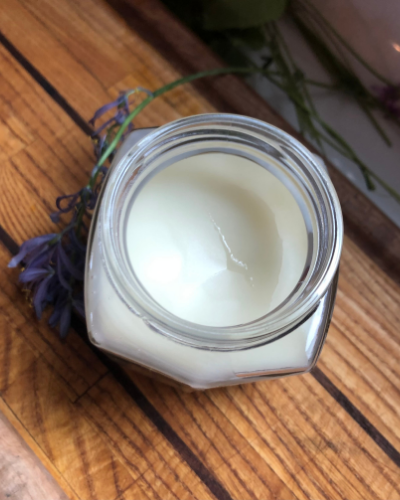 Keep reading for a FREE printable label. . . .
Not only are wooden kitchen tools beautiful – they function far better and last longer than flimsy plastic ones.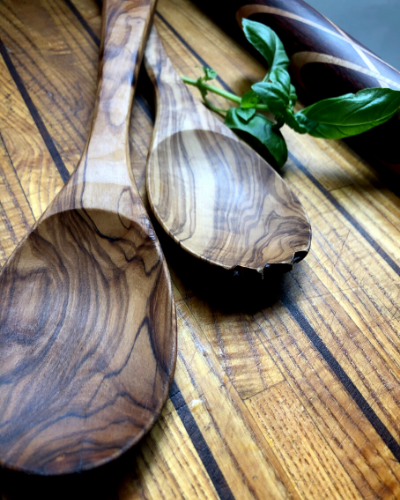 Wooden spoons don't scratch non-stick kitchen cookware and they don't leach chemicals into your food.
Wooden cutting boards won't dull your kitchen knives like other cutting surfaces might.
In general, wooden tools are naturally antimicrobial! While plastic has small pores and cuts that harbor bacteria, wood inhibits bacterial growth.
Studies, such as this one from the University of Wisconsin, show that up to 99.9% of bacteria exposed to wooden cutting boards die within a few minutes. Bacteria on plastic cutting boards on the other hand were readily recovered within minutes and hours and multiplied over night.
YUCK!!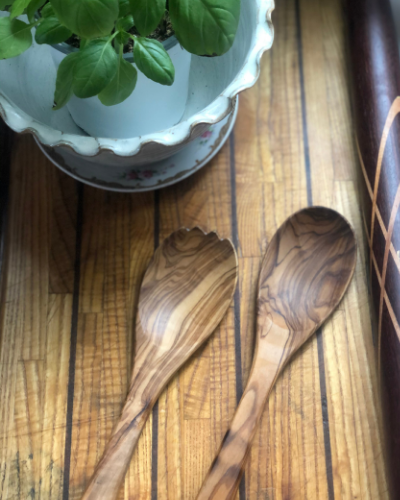 The health benefits of wooden tools alone have me sold but I CANNOT get over their nostalgic beauty.
The spoon butter in this post is all natural, made from coconut oil and beeswax. It designed to keep your wooden tools beautiful longer. You can even add lemon essential oil as an extra ANTIMICROBIAL BOOST. The lemon oil will not impart lemon flavoring to your foods.
Look for QUALITY wooden kitchen tools.
Quality wooden kitchen tools are an investment but you get what you pay for.
TRUST ME, I have bought the dollar store pack of wooden spoons only to be disappointed greatly when I light them on fire (they are so flimsy and dry) or break them within the first month.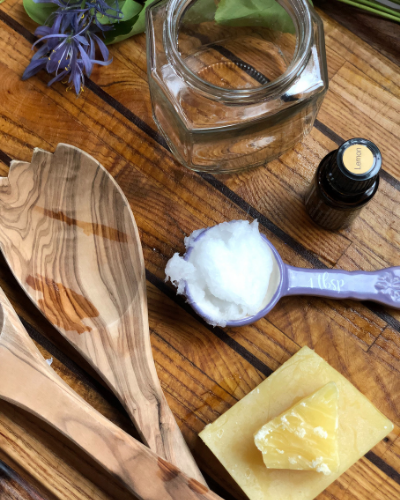 Quality wooden kitchen tools are beautiful and well made. They aren't just a tool. They are ART. The form and function of natural hand-crafted wood tools cannot be matched.
Well made wooden utensils fit your hand so well. They are sturdy, smooth and just make the cooking experience better. . . again maybe it's the nostalgia that I am so susceptible to. . .
. . . Whatever the reason you really do ENJOY using them and what a PERFECT gift for any Homemaker.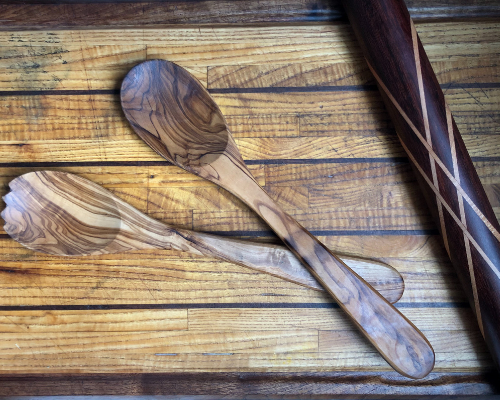 I am fortunate to have a beautiful wooden cutting board and rolling pin that my talented late husband made for me. Both will be cherished, keepsakes. Because I still do use them so it is VERY important that I keep them well cared for.
I was lucky enough to find locally-made wooden spoons. But you can find some amazing resources online as well. Etsy is a great place to look and support small businesses.
Here are a couple favorites sources:
Amazon believe it or not also has a beautiful selection! (SEE BELOW)
No matter where you purchase your wooden kitchen tools, proper care is essential: Here are some tips!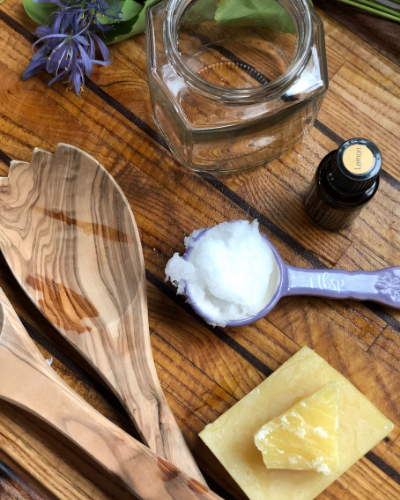 Hand wash only – gentle soap and hot water. NO dishwasher.
Wash Right away – rinse them almost immediately and never let them soak.
Wipe off excess water after washing- this prevents water from soaking deep into the wood and causing warping or cracking.
Air dry thoroughly. Don't put away wet as they may get musty and moldy.
Routinely condition – approximately once a month condition your tools by rubbing them liberally with spoon butter.
Sand as needed – keep fine grit sand paper handy to lightly buff rough spots or nicks. Rub with spoon butter after.
Treat stains right away – highly pigmented foods like berries and tomatoes can cause stains but washing right away or using baking soda and lemon paste can help get them out.
Treat smells– Strong smelling foods like garlic and onion can cause your wooden tools to take on food odor. Use lemon and baking soda to form a paste, massage into the wood. Rinse, dry and treat with spoon butter. For extra nasty smells, try rinsing with white distilled vinegar.
Discard split/cracked wooden utensils – "Thank you for your service. You lived a good life!!" – Add more to your birthday, Christmas or Anniversary lists!!
Before & After Spoon Butter Treatment: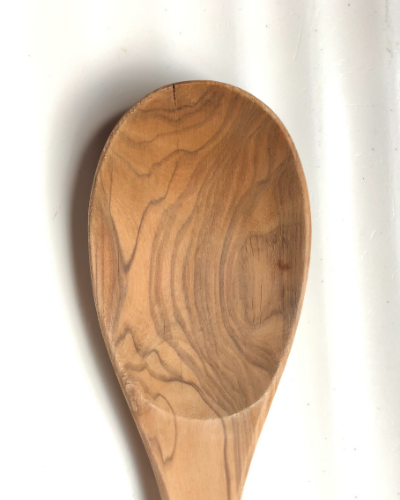 How to make Wooden Kitchen Tool Spoon Butter: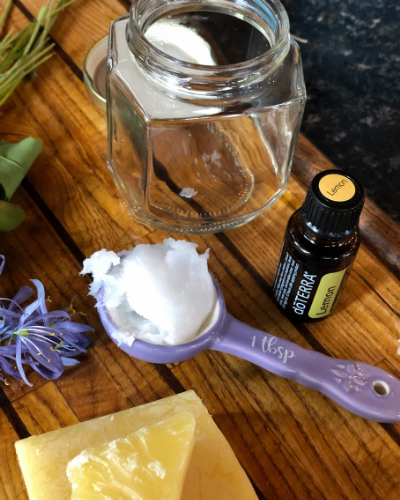 Measure coconut oil and beeswax and place in double boiler or a Pyrex bowl over simmering pot of water.
Stir occasionally until completely meted and clear.
Add 6-10 drops of Lemon Essential oil. It is important that you use a high quality therapeutic grade essential oil when cooking or making products that may be ingested.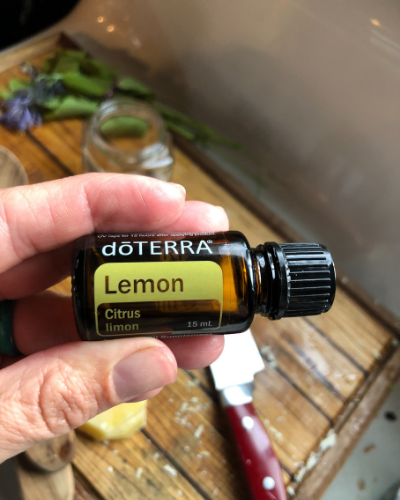 Pour your finished product into a clean glass jar.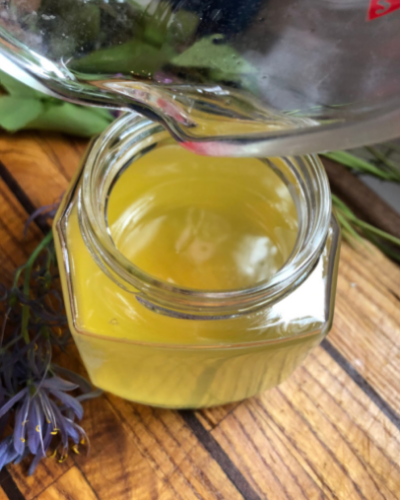 Once it cools, it will set-up like a soft butter.
Because I am impatient, *ahem* . . . I often place the warm butter in the refrigerator to cool and setup quicker.
Store the finished product in cool place for 4-6 months.
When ready to use, slather and massage the butter into your wooden tools.
Let them sit overnight then just wipe off the excess.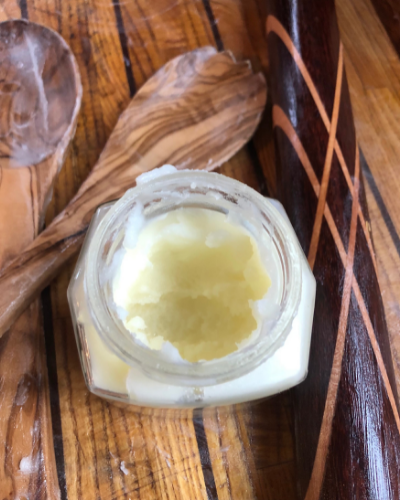 That is it! You are ready to get cookin'
Thank you for being here. Please take advantage of the FREE label below and be sure to checkout shopping links for this post. (I do make a small commission which helps keep the blog goin') Wouldn't a set of wooden spoons along with beautifully labeled spoon butter would make an excellent gift?! I appreciate you.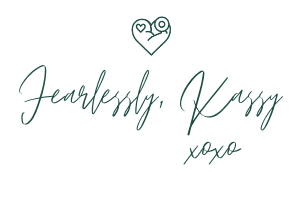 Spoon Butter for Wooden Kitchen Tools Label:
I have created a beautiful label FREE for you to download and print. Enjoy!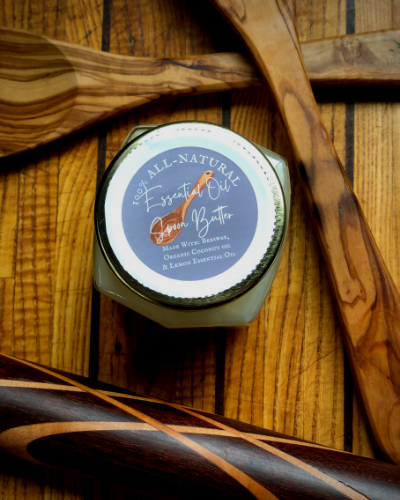 Get your FREE Label here:
Shop this Post:
This post may contain Amazon Affiliate Links, which means I make a small commission at no extra cost to you. See my full disclosure at homemakingwithoutfear.com. Furthermore as an Amazon Associate, I may earn from qualifying purchases.
Wooden Kitchen tools I WOOD NOT be without!
Check out another of my Essential Oil DIY Recipes:
Pin it for Later: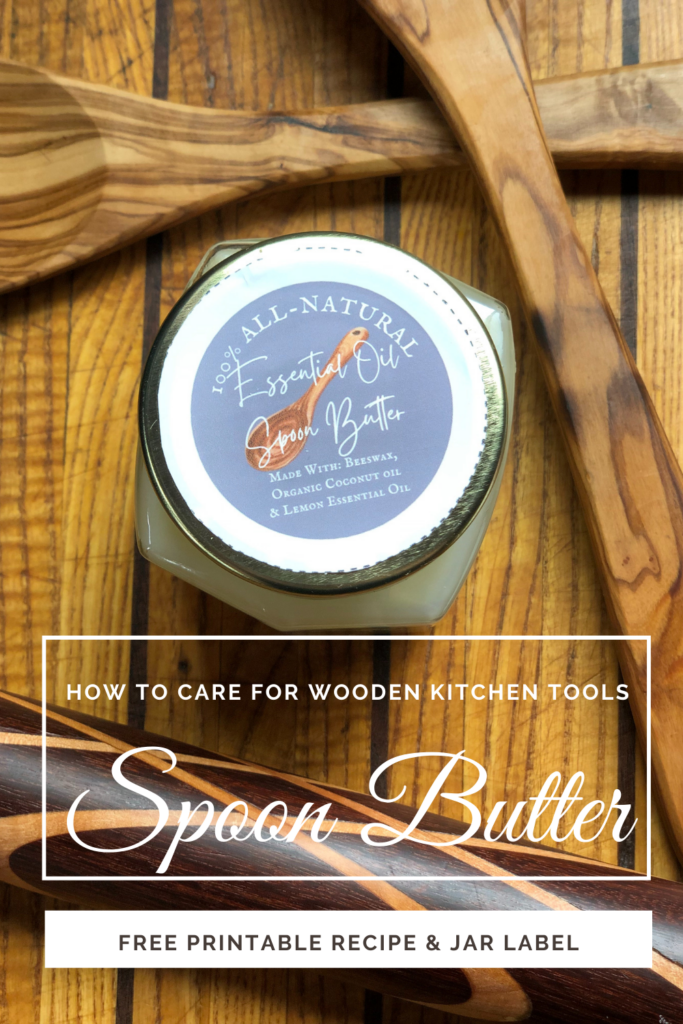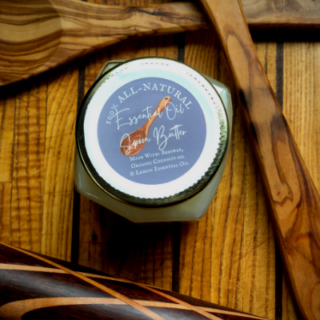 Spoon Butter for WoodenKitchen Tools
Additional Time:
2 minutes
Wooden tools are essential items in many kitchens these days. Make this easy spoon butter recipe to keep them conditioned and lasting longer.
Ingredients
1/4 cup (4 ounces) beeswax pellets or shreds
3/4 cup (12 ounces) coconut oil
6-10 drops of Lemon Essential Oil
Instructions
Measure coconut oil and beeswax and place in double boiler or a Pyrex bowl over simmering pot of water.
Stir occasionally until completely meted and clear.
Add 6-10 drops of Lemon Essential oil.
Pour into clean glass jar.
Store in cool place for 4-6 months.
Notes
To Use: Liberally slather and massage butter into wooden spoons, rolling pins, salad bowls, cutting boards or butcher block. Let sit over night. Wipe excess with clean cloth and rub remaining into the wood either with hands or clean towel.
Do this monthly or whenever your tools look dry and in need of conditioning.