Need ideas for a Garden Theme Birthday Party? Our baby girl turned 2 years old last week. They just grow so fast don't they? Because the weather, the garden and the back patio is beautiful right now AND because she is "growing like a weed" – we decided to have a Garden Theme Birthday Party. Come join us won't you?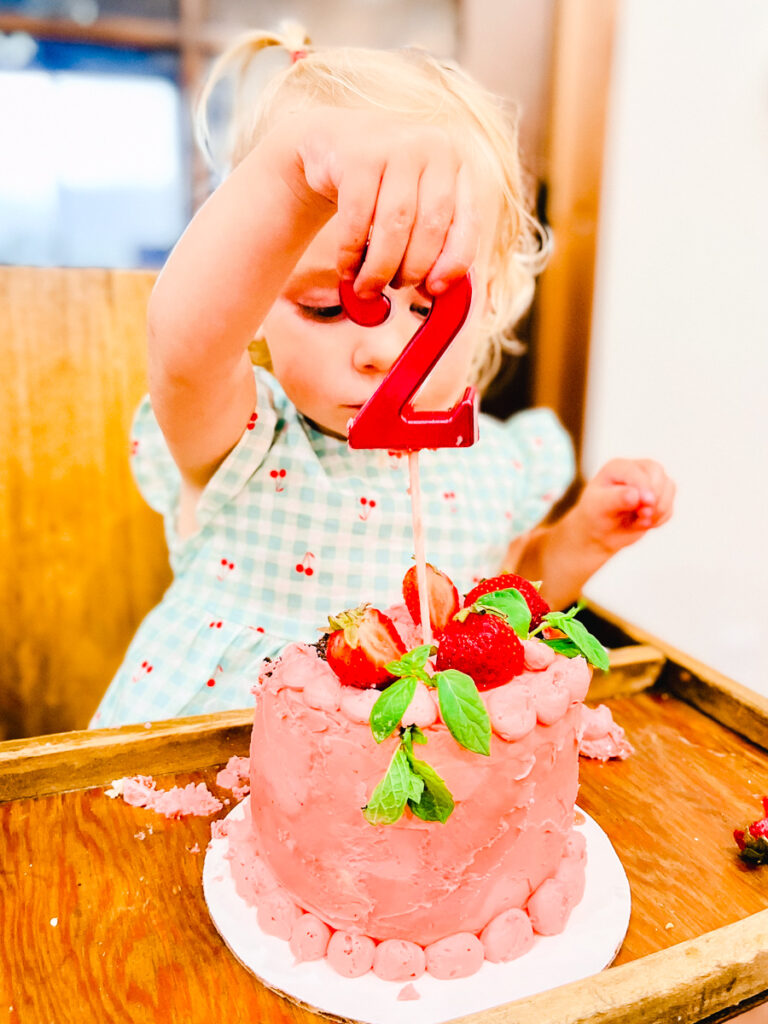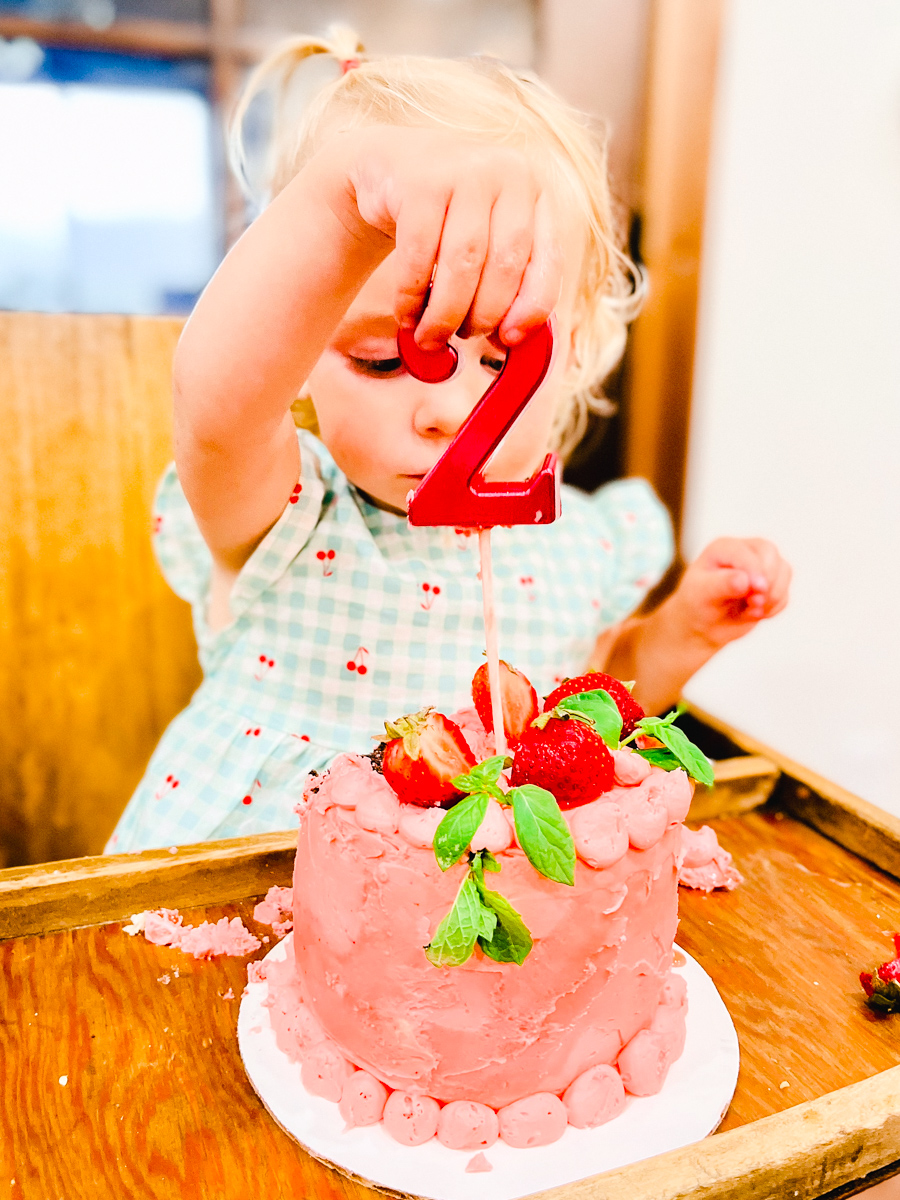 This post may contain Amazon Affiliate Links, which means I make a small commission at no extra cost to you. See my full disclosure at homemakingwithoutfear.com. Furthermore as an Amazon Associate, I may earn from qualifying purchases.
Why a Garden Theme Birthday Party?
I must admit – if I had to pick the perfect party for myself it would certainly be a garden party.
Or at the very least a party IN a garden. Small garden, BIG garden. I love them all. There is just something about a party and FOOD in an outdoor setting. There is lots to see, lots to experience. So good!
So why is a Garden Party so good?
Much of the party decor is already set for you. The space itself provides the backdrop.
You can use things like planters, watering cans, teapots, baskets, pitchers and plants that you already have to decorate. You don't have to worry about purchasing single use party decor.
Outside/garden themes are inviting and comfortable for guests with lots to see and visit about.
There is something very special, magical and fairy-like about a garden party. Perfect for little girls!
Food can be fresh and simple but FUN too.
BONUS if the garden party can be held outdoors – get those kiddos outside for games, where messes and ROUDY playing are welcome. No inside voices necessary!
Enjoy this Garden Theme Birthday Party on YouTube
A Garden Theme Birthday Party Invitation (Just for You!)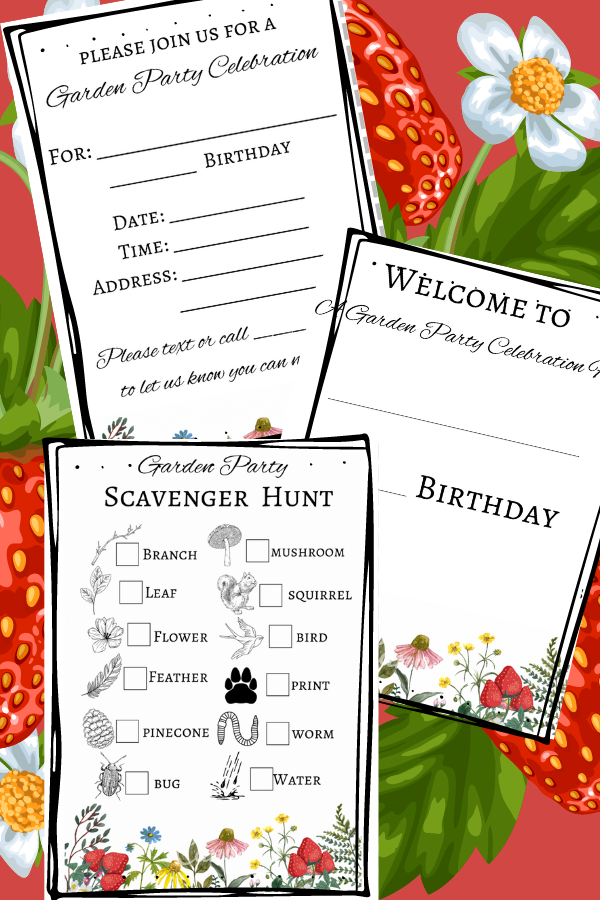 I had such a fun time designing this Garden Them Birthday Party invitation using Canva.
I created my Garden Party Invitation then simply attached the photo to a Facebook Event. This is simple way to invite and stay connected with friends and family.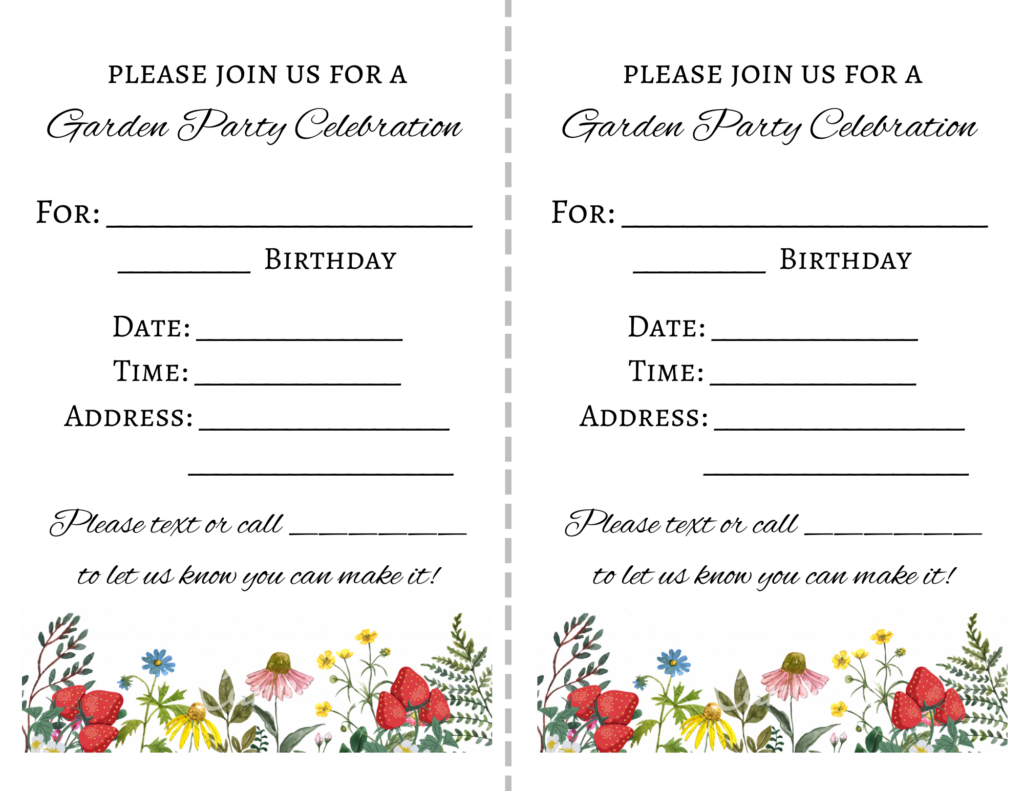 You could also email the invitation, send it in an instant message or PRINT and mail it. It is super Cute and fun.
The blank invite prints 2 per standard 8.5 x 11 inch print page. Just cut them in half on the dotted line.
FREE Garden Theme Party Digital Downloads
For Homemaking without Fear Community Members, I have a whole Garden Theme Party Download available. Click the button below and I'll email the jpg. files to you.
Download, upload, send or print. It's up to you how you'd like to use them just have fun! Thank you for being a part of the Homemaking without Fear Email Community.
You will get:
Blank (fill in version) of Garden Party Invitation
Blank (fill in version) of Garden Party Welcome Sign
Garden Party Scavenger Hunt Printable
Canva is an online design program that allows you to dream up and design just about anything your heart desires. Cards, invitations, flyers, signs, stickers – literally ANYTHING. Choose from different levels of access (Free +) to get started. Graphics, photos, images and templates are top notch and stylish. Sign up for Canva using MY link and get a premium photo, icon or illustration for free.
Simple Garden Theme Cake & Cupcakes
For this Garden Birthday Party we enjoyed chocolate cupcakes with pink buttercream. Simply yet beautifully decorated with a strawberry sliced in half.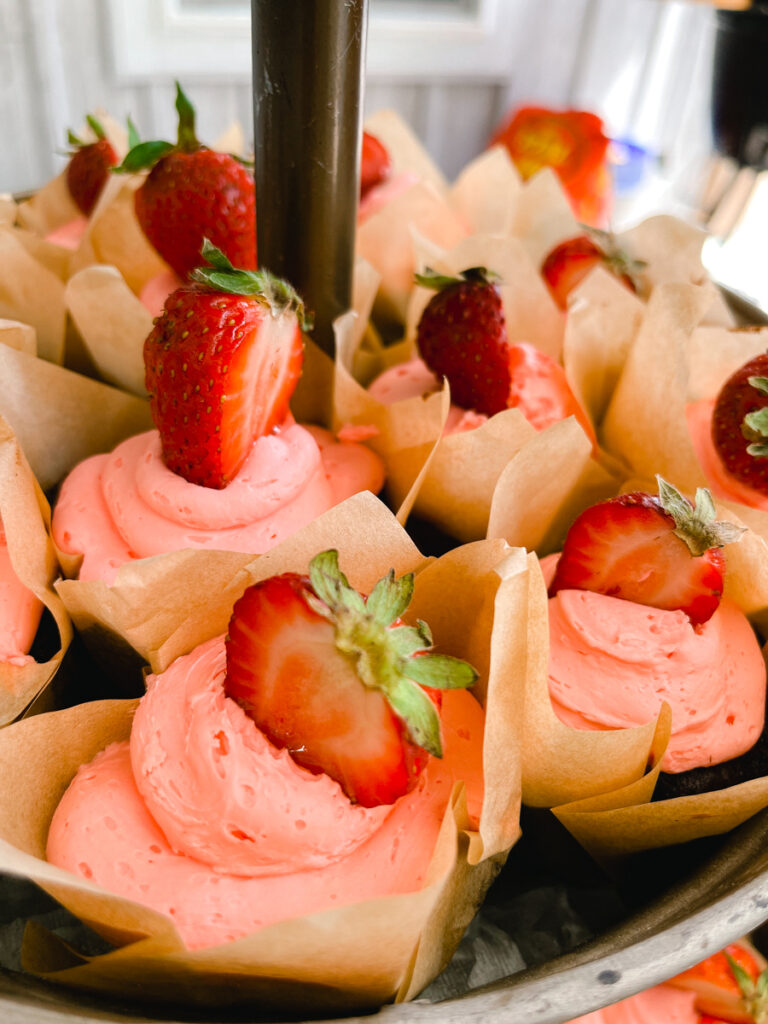 The two year old smash cake was made from 2, 4 inch round chocolate cakes sandwiched with pink buttercream. I did a quick rustic frosting job and decorated with whole and sliced strawberries. For a little green pop I added fake eucalyptus but later switched that to sprigs of mint (didn't want the toddler to attempt to eat fake eucalyptus).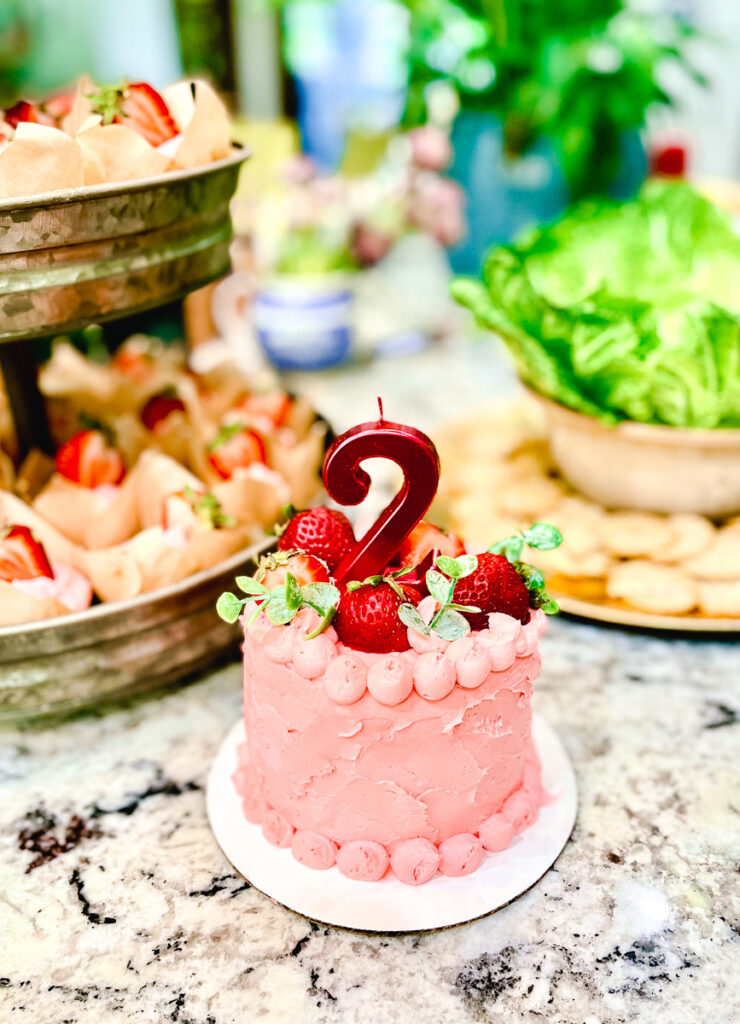 Topped it all off with a pearly, strawberry red 2 year old candle of course!
Garden Theme Birthday Party Food Ideas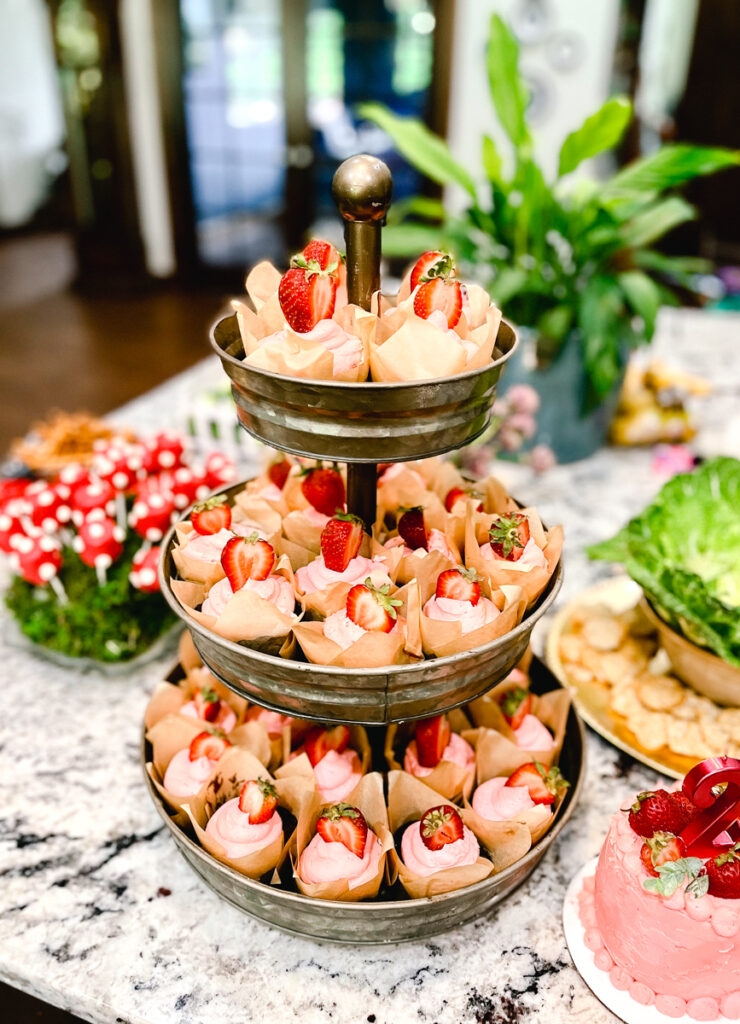 Think. . .
Toadstools
These toadstools were made from marshmallows on sucker sticks, dipped in candy melt with white chocolate chip dots.
I stuck them into a "log" made from floral foam covered in moss. . . so cute!!
Bugs
Babybel cheese bugs were simply black dots painted on the their wax wrappers.
Twigs
Easy one here! Pretzel stick twigs.
Fruits
What summer garden party would be complete without watermelon?
We really went with the strawberry theme and made strawberry lemonade but you could definitely do other kinds of berries.
Veggies
We created this sweet veggie "garden" tray complete with ranch in small terra-cotta pots.
My oldest daughter created the white picket fence surrounding the tray by gluing together strips of white construction paper.
Wash, prepare and line up the veggies, use a small flower cookie cutter to shape slices of cucumber – Voila! Veggie garden – no rabbits allowed!
Flowers
Florals and greenery are key for garden party ambiance. I turned my Basic No-Knead Sourdough into eye catching flower shaped, knotted rolls for sandwiches.
If you need a bread dough recipe that comes together even faster – definitely use my Traditional Homemade White Bread, aka "Speedy Roll Dough" Recipe.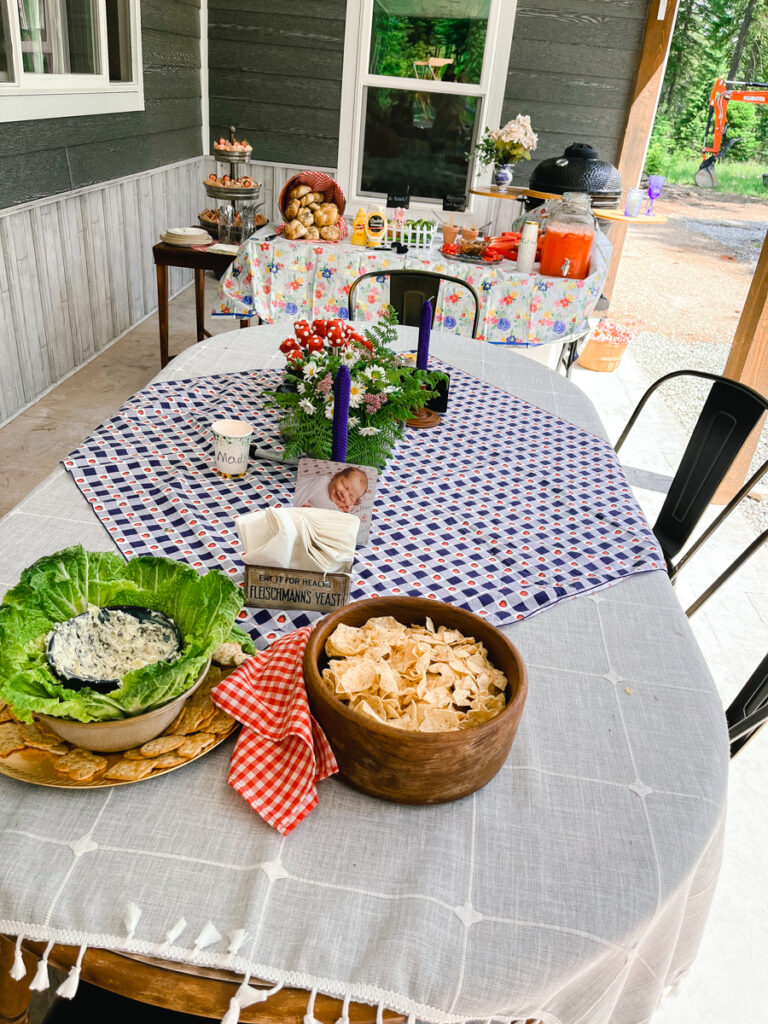 A head of cabbage with the center removed was perfect to hold spinach dip. I surrounded the dip with floral and butterfly shaped crackers. So cute!
It's all there and boy was it fun and delicious.
Games, Favors & Sweet Treats for a Garden Theme Birthday Party
I always like to provide some sort of special little treat for guests to take home and also at least one activity.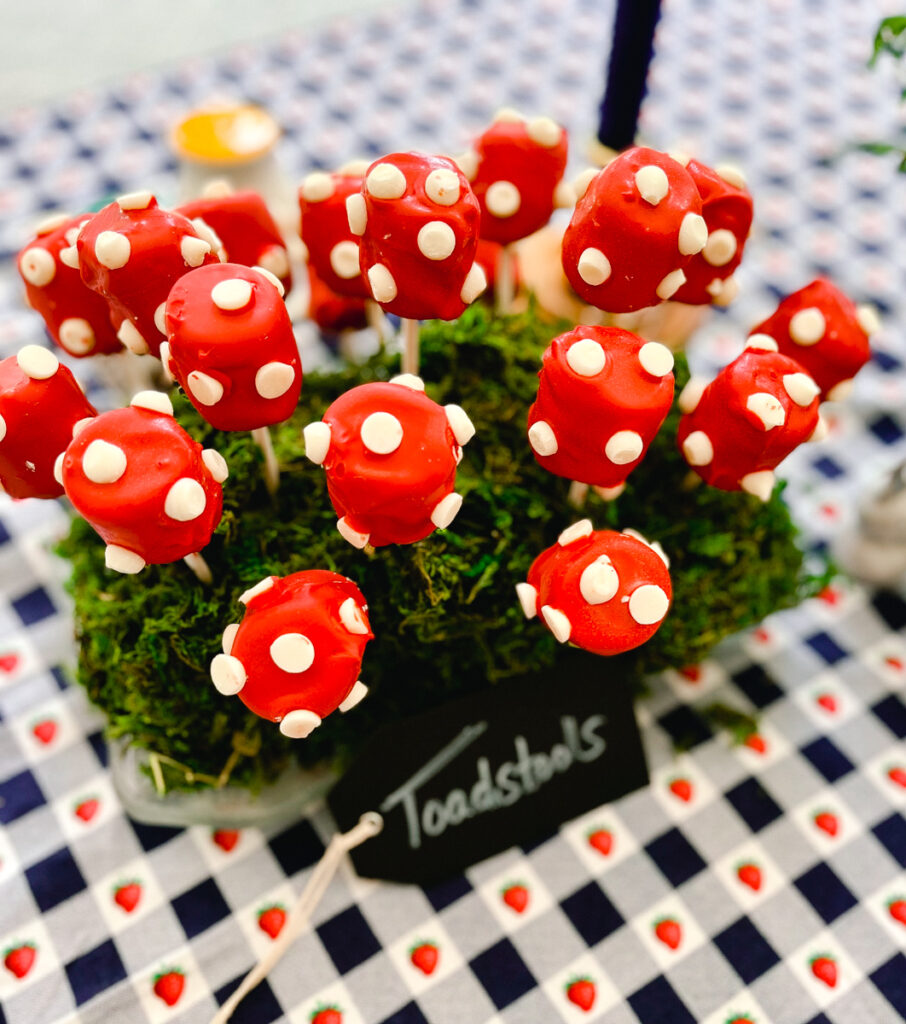 A sweet treat like these marshmallow toadstools are simple and charming. Just stick a marshmallow to a sucker stick, dip in melted candy coating and add white chocolate chips for the dots, allow to cool and harden.
Viola Toadstools!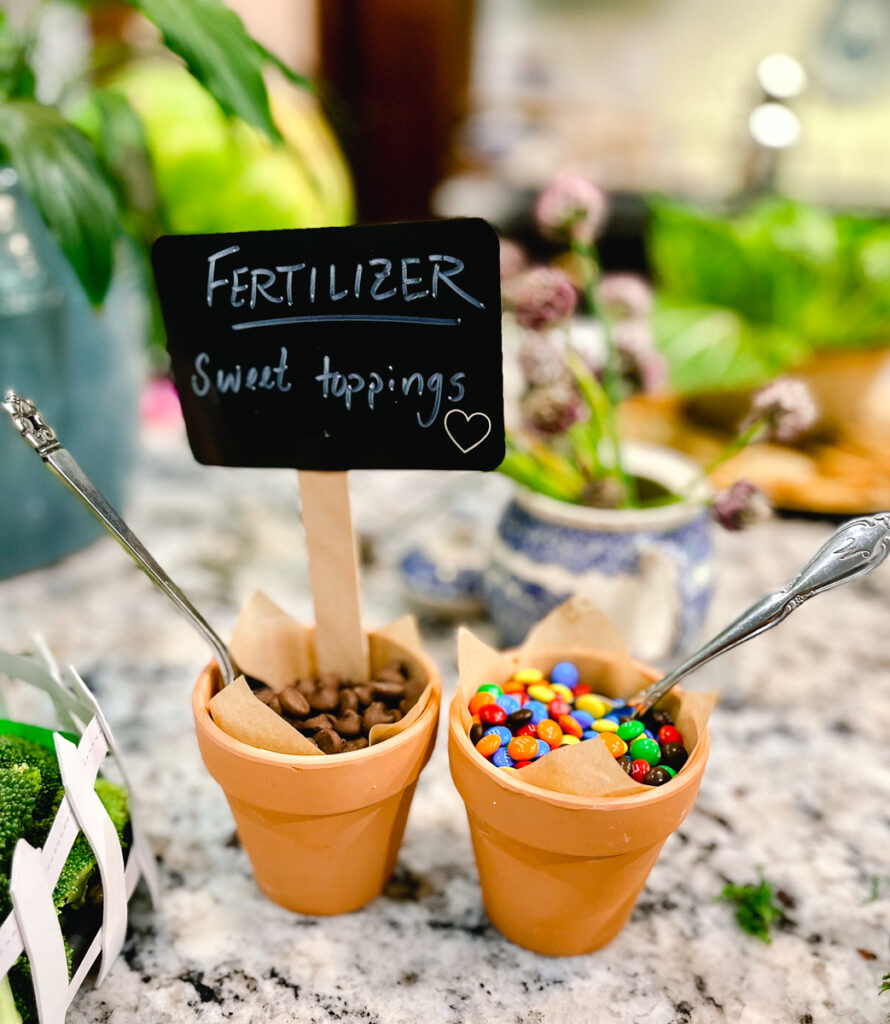 What would a garden party be without a Fairy Crown for the little girls?
Gather up floral tape, hot glue, ribbon, sparkly tule, faux flower stems or whatever else you may have lying around and create a magical crown fit for any fairy princess.
I used faux eucalyptus stems as the base, wrapped tule and ribbon around leaving a long tail then glued flowers here and there.
Voila, Fairy Garden Crowns!
A scavenger hunt is always a FAVORITE activity. A garden party scavenger hunt is even better.
Get my Garden Party Scavenger Hunt FREE DOWNLOAD HERE:
Blank Garden Party invite and Welcome sign is also included.
Garden Theme Birthday Party Decor
For Garden Theme Decor I really kept it pretty simple. I borrowed one checkered, strawberry kitchen towel that I used to decorate the gift table.
I added a welcome sign that I made using Canva and printed. Ferns that I snipped from around my garden added the finishing touch.
I also found red and white checked napkins and a blue/white/strawberry pattern tablecloth for the center of the main table. I literally spent $2 on all. Don't forget your thrift shops and yard sales to find cheap beautiful linens! I will use all of these again so they were a wise purchase.
I used candlesticks I already had, clipped flowers and ferns from the garden and forest to create centerpieces. Food was presented in pretty bowls or baskets that I always look for at thrift stores and keep on hand for dinners and parties.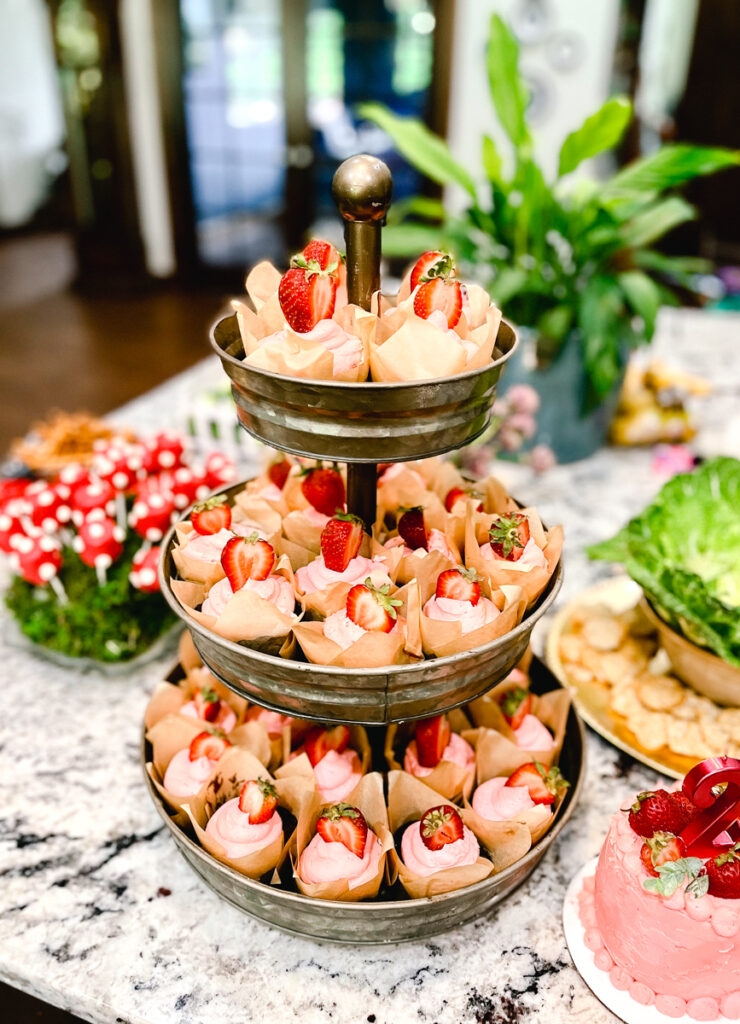 Of course FOOD also doubles as DECOR! This 3 tier metal stand has been a decor favorite in my home for years. I use it all the time for all kinds of things – pretty to practical
And what birthday party would be complete without BALLOONS! A balloon arch is always a simple, inexpensive but stunning touch to any party.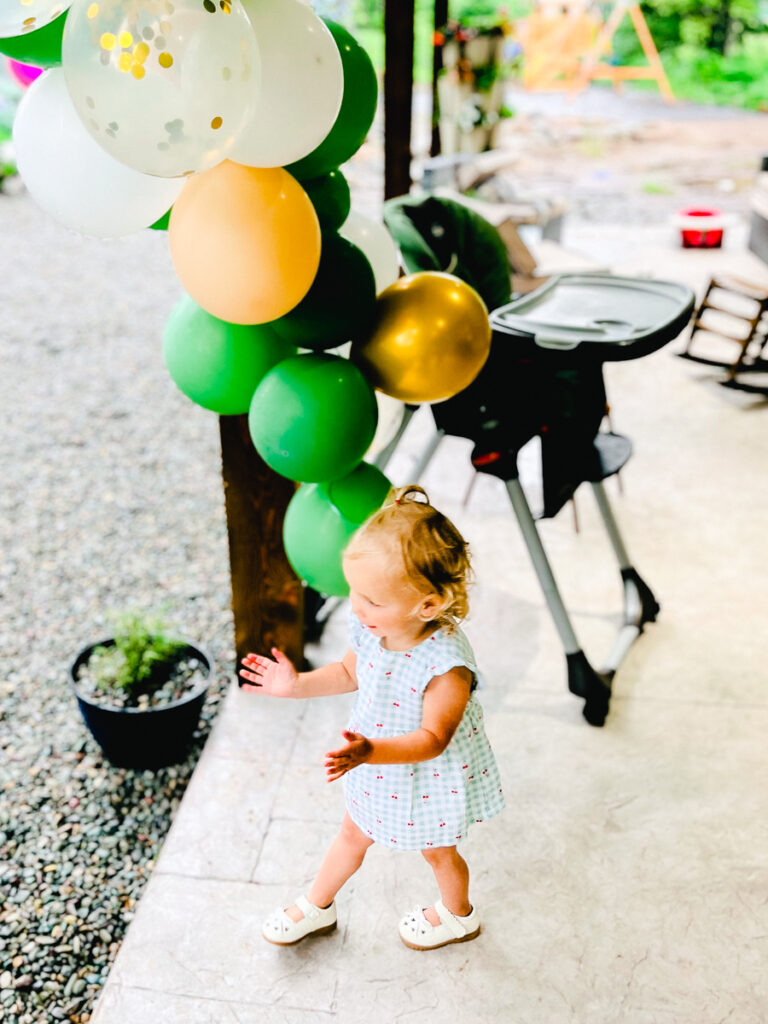 The only things I truly purchased were:
Thank you for reading! Please enjoy another one of my garden themed posts:
Friend,

I want to thank you for enjoying this post celebrating a special 2-year old with a fabulous Garden Party. Do you have any ideas for a garden party of your own? Leave them in comments below.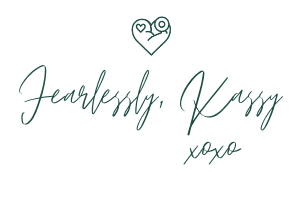 Pin it for Later