Does a sexy dark wall color in a SMALL bathroom scare you? Don't let it. Dark walls – even black can be done. The resulting will be moody, intimate cozy, timeless and FABULOUS. Let share with you how you too can create this look.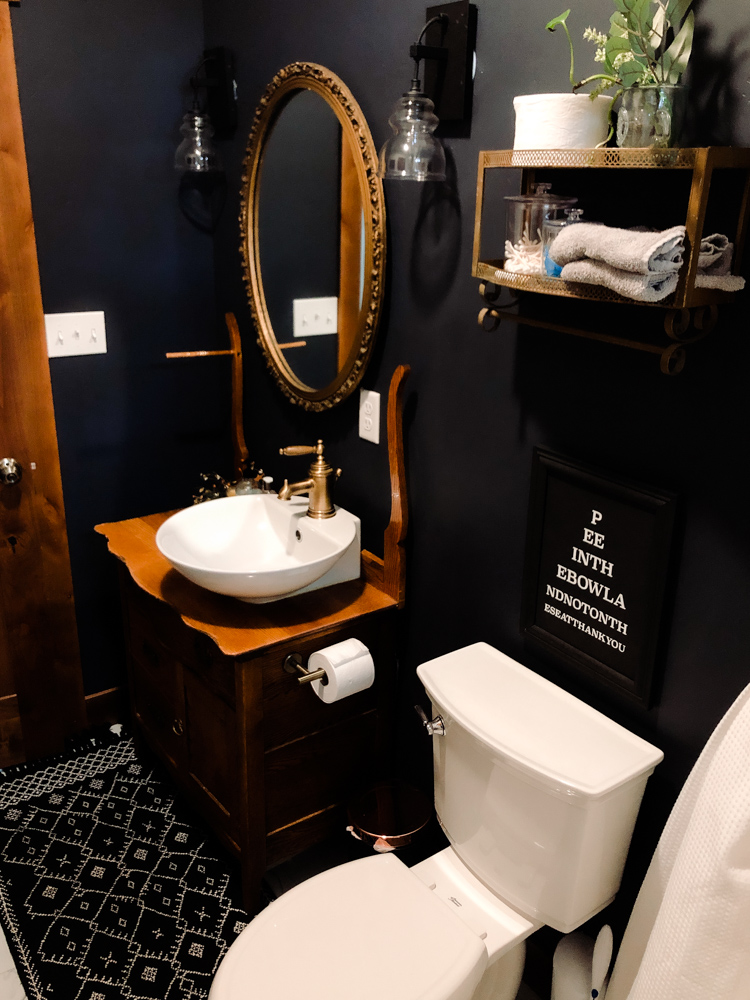 Timeless Small, Dark & Fabulous Bathroom Inspiration
So our small bathroom acts as our guest bath but also our son's bathroom. I wanted this room to be simple and masculine but elegant, Timeless and Traditional.
This room had to feel warm, cozy and the style need to last though the years and never become outdated.
I picked a dark, moody color for the walls. I nearly went with black but my son's favorite color is blue. So, to add even more drama went with a GORGEOUS deep blue by Behr. This blue is called "Poppyseed".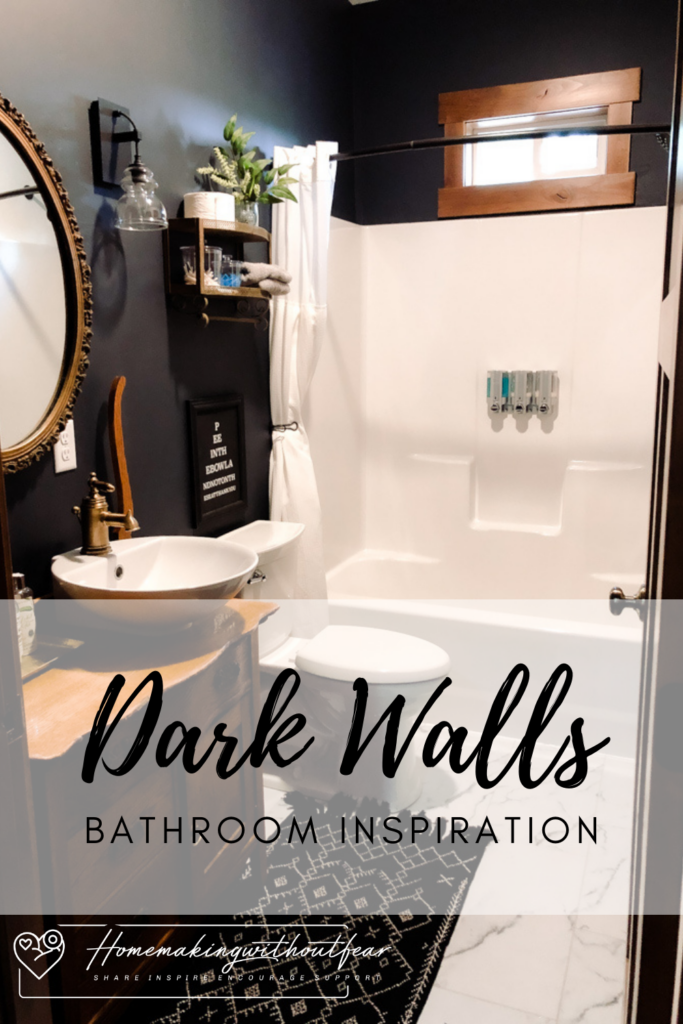 If you are looking to add a whole lot of WARMTH, drama and class to your small bathroom space consider doing a black, dark navy blue, dark forest green or dark maroon or even purple wall color.
Below are the inspiration photos from my Small Bathroom Pinterest Design board.
The photos to follow are to inspire you too to GO FOR that deep, dark and RICH wall color. – A FEAST for the eyes to be sure.
SEE More Homemaking without Fear Small Bathroom Ideas on Pinterest
So HOW do we actually pull off a Timeless Small, Dark but FABULOUS Bathroom without making it feel closed in?
The answer:
Choose Crisp Clear Lighting
Bright Metals
Warm Complimentary Wood Tones
Clean Contrast Color
Creating the illusion of MORE space
Life and dimension with something GREEN and living (aka plants)
Clear Crisp Lighting Choices
There is just something about clear, crisp lighting in a small space.
Go with that dark color that you love but also keep the space well lit. This keeps the overall look elegant and moody but also functional instead of gloomy, musty and hazardous.
Clear lighting is a must. Accomplish this with natural light your blessed with – even if that is a small window in the room. I recommend leaving it open and uncovered.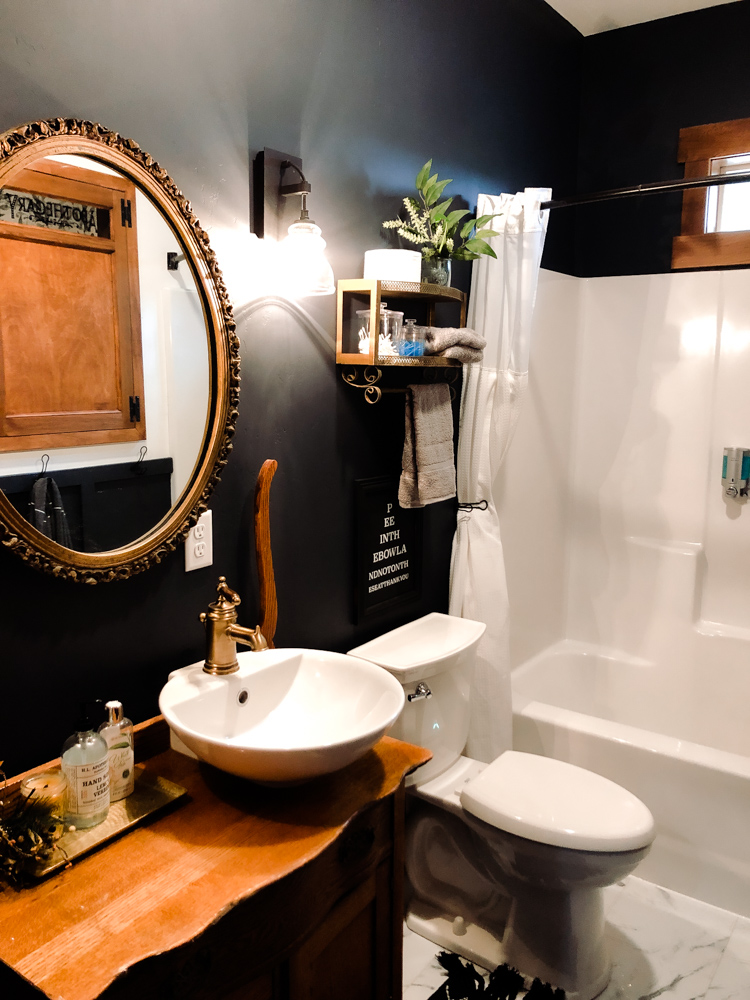 I love the look of CLEAR glass sconces to really highlight and let that rick dark wall color shine through instead of taking your eye away from it.
Bright Metals
Chrome, Brass, Gold – choose bright contrasting metals to really add the shine and class to your dark space.
Don't be afraid to mix and match metals here too. A polished brass like you see here in this vessel faucet with copper or bronze as shown in this oval mirror.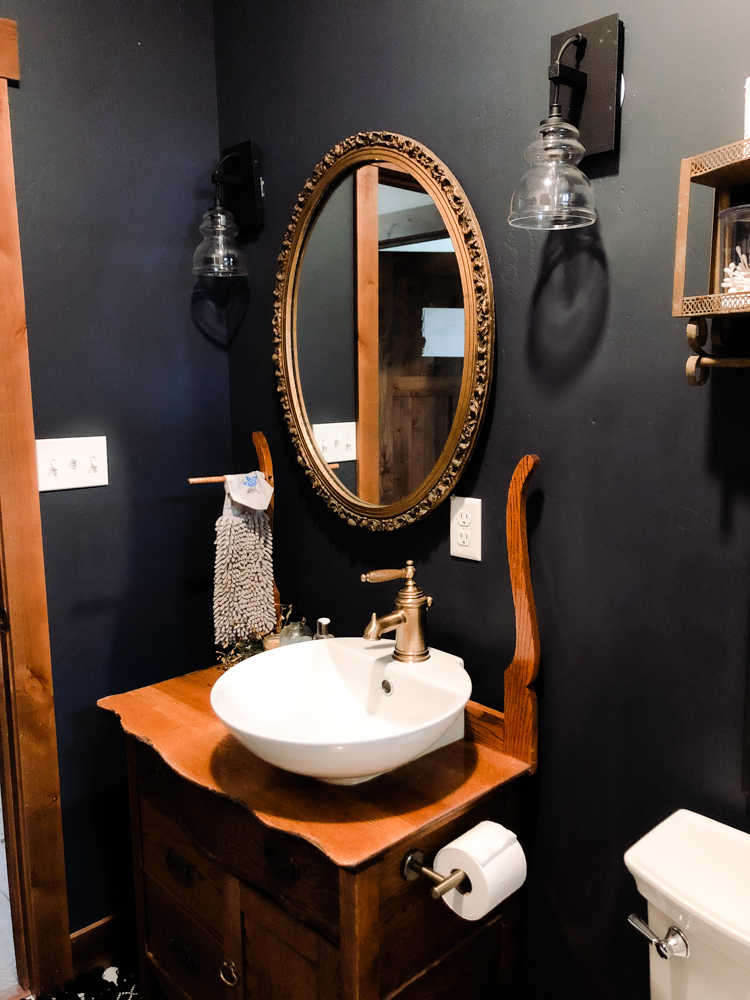 A bit of shine, bling if you will is an absolutely stunning addition to a dark colored wall. It adds a focal point of brightness to the space to be sure.
Add Warm Complimentary Wood Tones
Rich dark earthy colors just NEED a warm earthy wood tone – Don't you think.
I just believe a bleached out, weathered wood look just doesn't look right with a dark warm color.
Go for deep rich, warm wood tones.
Think HONEY, CINNAMON, MAPLE SYRUP colors – warm and sexy and FABULOUS!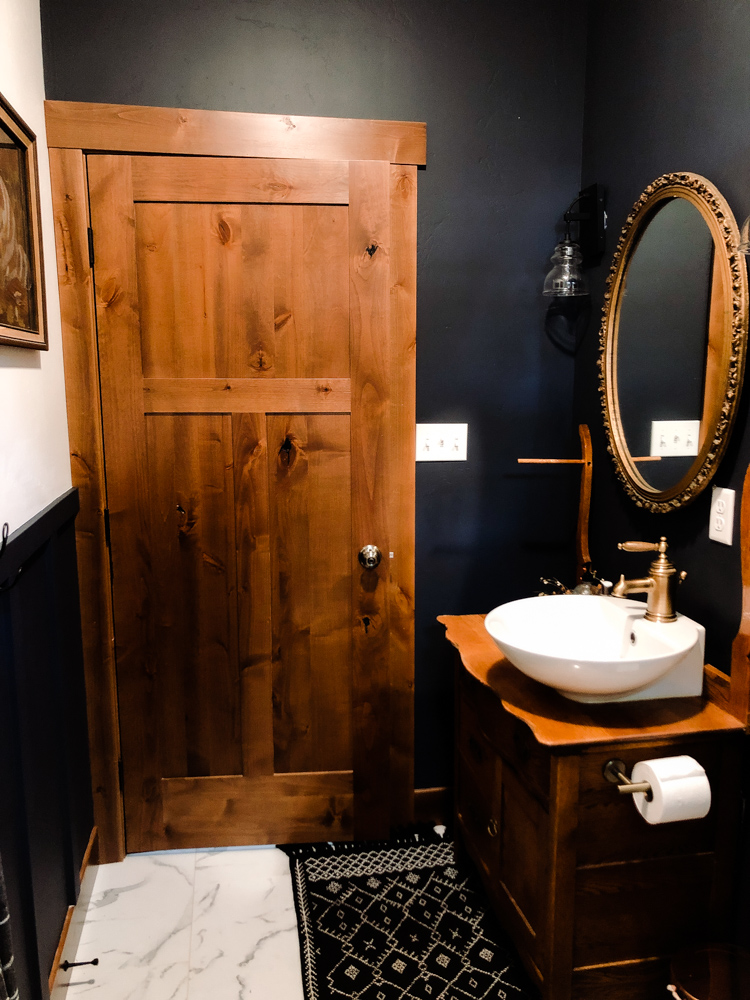 Clean Contrast Color
I really enjoy the stark contrast of black and white in a space.
It really helps your eye SEE the architectural elements of a room.
AND. . . white on the upper half of a wall draws your eye UP to make the space feel larger.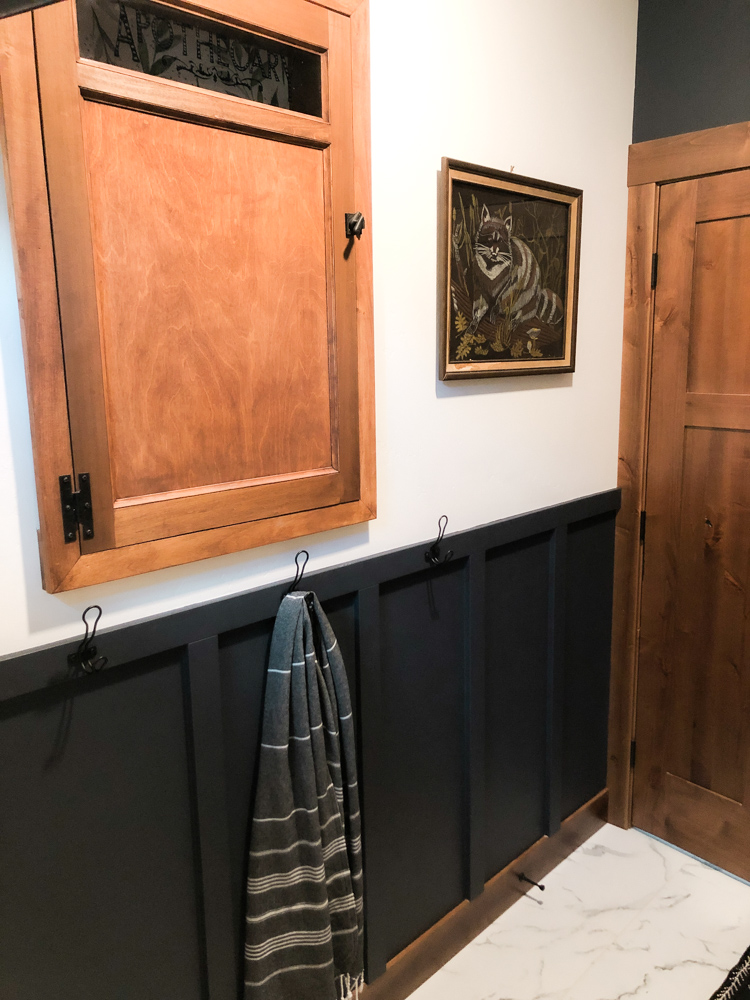 In our small bathroom space I chose to use Ultra Pure White by Behr to Contrast the Rich Blue Poppyseed colored wainscot on the wall opposite the sink and toilet.
If you are a little afraid of going all-in in your dark space. Consider using your dark color as an accent wall and add a contrasting lighter color on all the other walls. This allows your eye to take in the structure and shape of a room more clearly.
Maybe just you just use your dark color as a wainscot like we did??
Create the Illusion of More Space
Mirrors, windows for light tall ceilings or contrast color on the upper 2/3 of a wall are all ideas to create the illusion of more space.
Maybe your small space isn't a bathroom? Add a beautiful mirror anyway. Mirrors are the perfect addition to add depth to a room and create the feel of more space.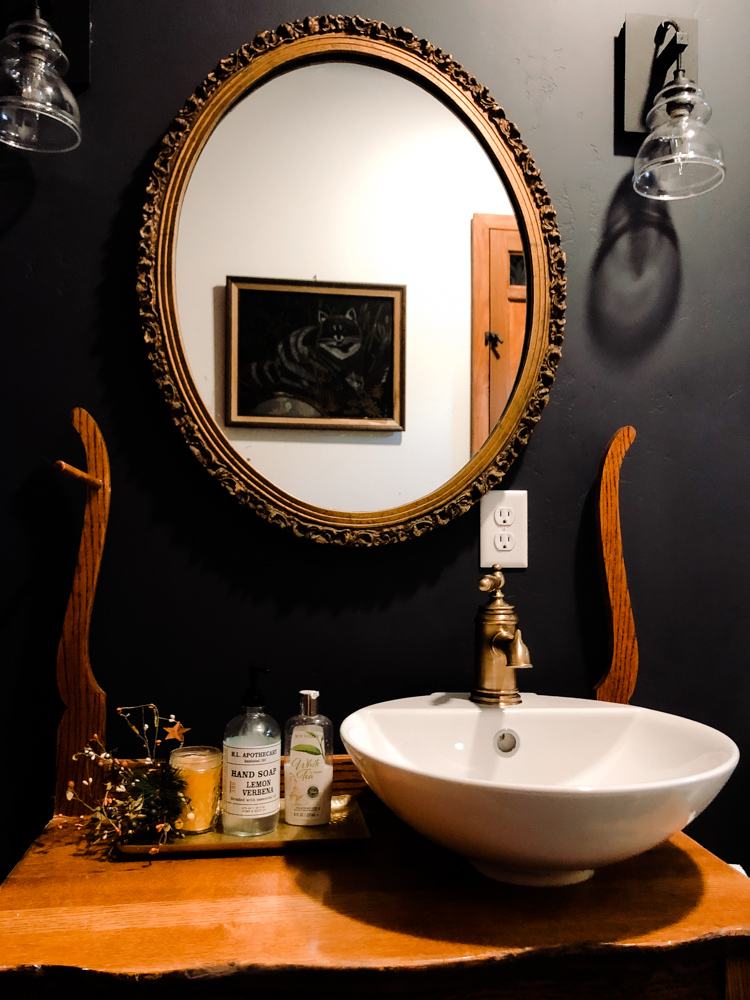 If you are blessed to have a window (even a small window) to let in natural light – that is hugely beneficial. Keep the window simple and unencumbered.
Tall ceilings certainly help to "open up" a space. Maybe the addition of architectural interest like faux beams could be utilized to help draw your eye up and give the feel of more open space?
Using contrast color on the upper part of the wall can also make a room feel larger and draw the eye upwards.
Keep the decor simple and uncluttered. A small room can really feel too closed in, if it is filled with too much "decor". Let the necessary structures in the room BE the decor.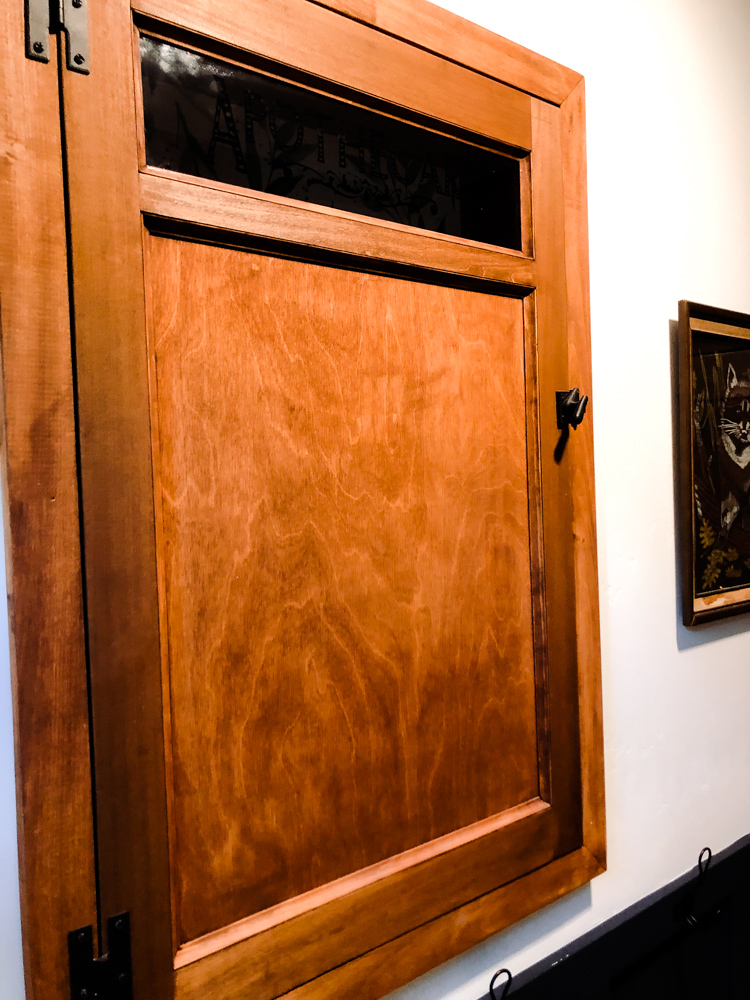 A cabinet that is built in instead of freestanding perhaps? A beautiful vessel sink or ornate mirror are all examples of necessary bathroom items that double as decor.
Which of these methods can you use to make your space feel larger?
Splash in Some GREEN to add LIFE
I am forever adding greenery and plant life to my decor spaces. Adding something alive and natural to a space ESPECIALLY a dark space makes it feel a little softer somehow.
Dark colors, metals and clean lines can all be very sexy but also quite HARSH. Try adding soft organic lines of plants or faux stems.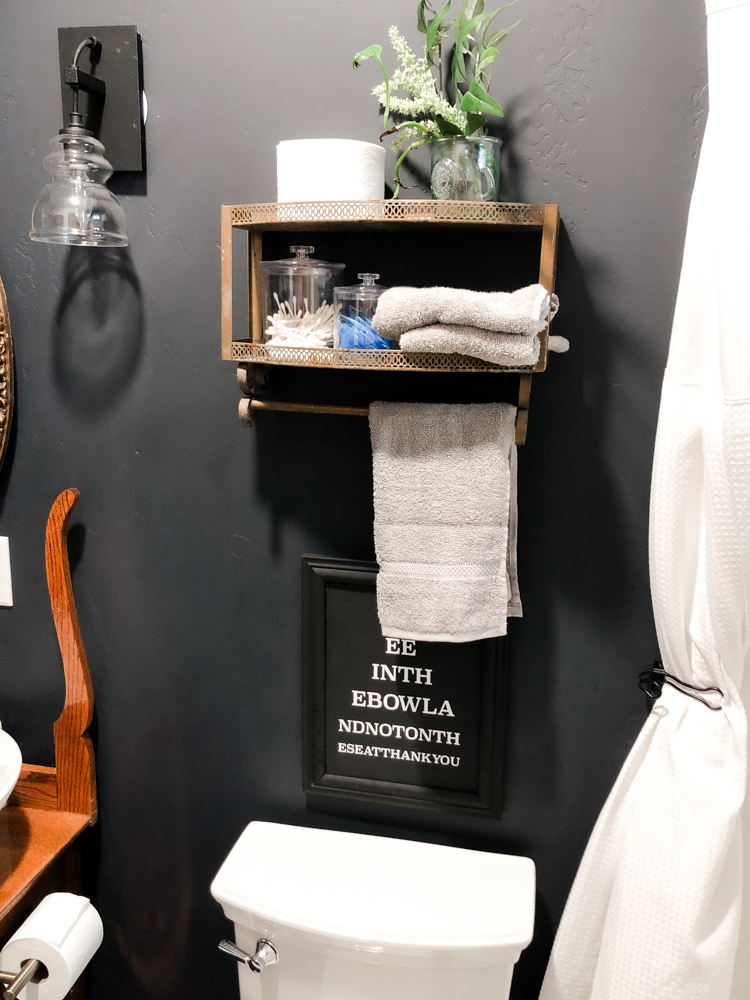 I think it ups the romance, drama and soft moodiness of a small dark space. Wouldn't you agree?
Oh and if you don't have green thumb and avoid adding plants to spaces – use good quality FAUX plants. . . don't worry I won't tell!!!
More Photos of Our Timeless Small Dark & Fabulous Bathroom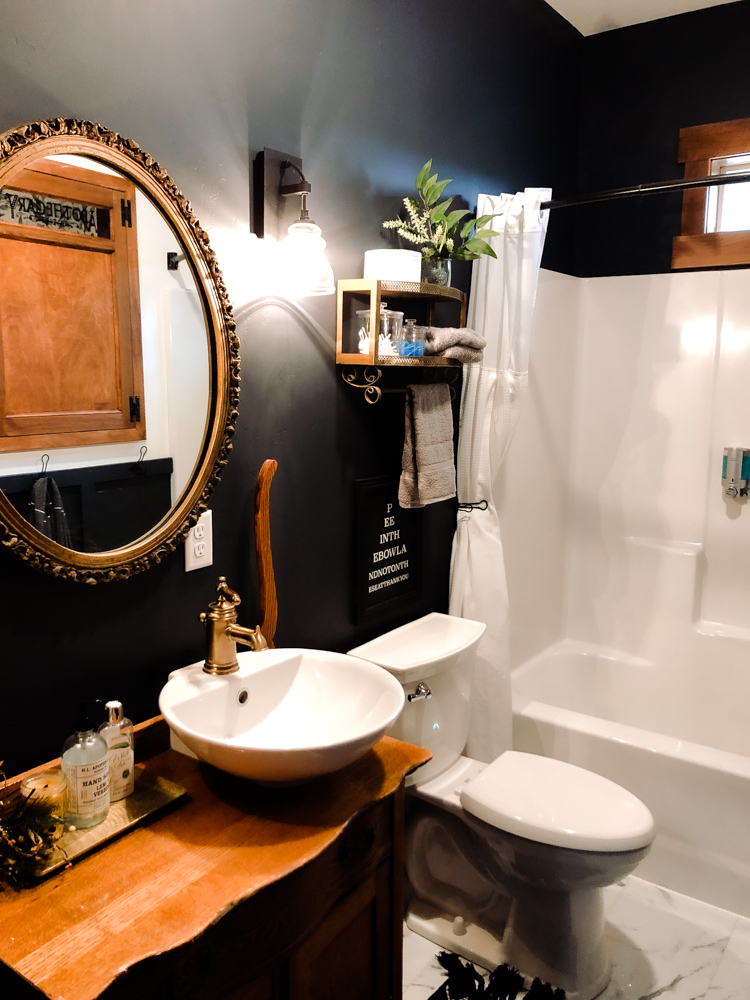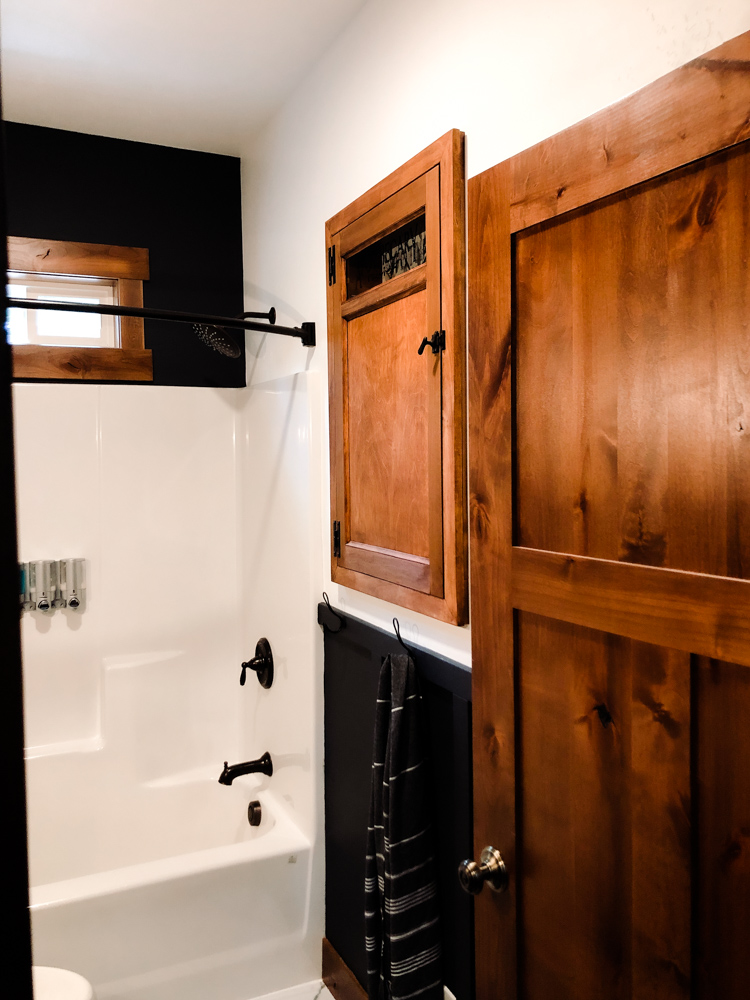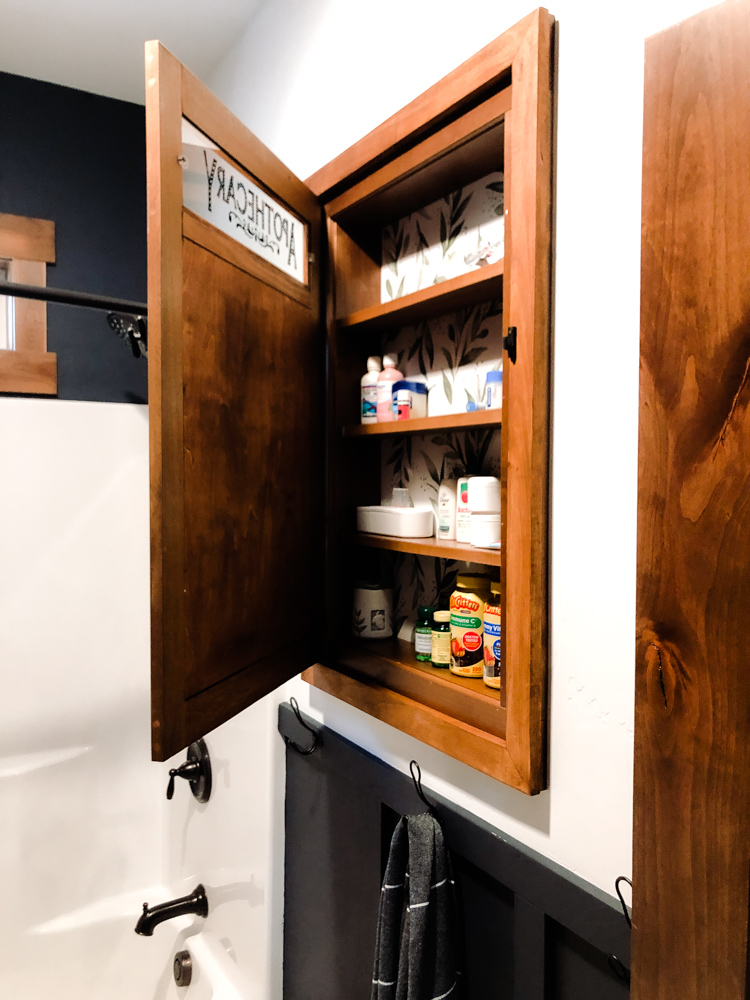 Shop This Post:
This post may contain Amazon Affiliate Links, which means I make a small commission at no extra cost to you. See my full disclosure at homemakingwithoutfear.com. Furthermore as an Amazon Associate, I may earn from qualifying purchases.
Jute Hand Woven Rug from Amazon
Moroccan Black Tassel Rug from Amazon
Brass Vessel Sink Faucet from Vintage Tub & Bath (out of stock)
Black Iron Wall Sconces from Wayfair
Black Rustic Wire Hooks from Amazon
Shampoo & Conditioner Dispenser from Amazon
Turkish black and White Bath Towels from Amazon
Apothecary Cabinet Door from Etsy
American Standard Optum Vormax Toilet from Home Depot
Vessel Sink from Vintage Tub & Bath
Curved Shower Curtain Rod from Amazon
Waffle Weave Shower Curtain From Amazon
Brass Toilet Paper Holder from Amazon
Mirror, Dresser, Brass Shelf were all thrifted.
The black "Pee in the Bowl" sign above the toilet was a DIY Cricut project!
Did you enjoy this Timeless Small Dark & Fabulous Bathroom Reveal? Don't miss my other Timeless Traditional Home Design Posts:
Well Hello There My Dear Friend,

This small bathroom was the first room finished in our new home and I just love it. I sit in there sometimes because it is so quiet and calming somehow. The lighting, the colors – just very inviting. That is what anyone could want in a bathroom! I hope you love it too.

I want to know. Would you ever consider doing very dark walls (even black) an a small room like this? Which of my tips would you use?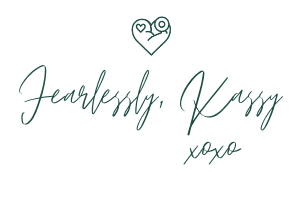 Pin it for Later Small, Dark & Fabulous Bathroom Ideas