We are building a brand new home and I cannot tell you how excited I am. I have been planning, designing and dreaming about what it will be like and look like. I have had difficulty putting words to the EXACT design style I have in mind but I recently figured it out and would like to share it with you. Here it is! – Timeless, Traditional – Pull up a chair, grab a cup of coffee and let me show you my Timeless, Traditional design plans for our new kitchen, dining room and pantry. EEEK! I can't wait!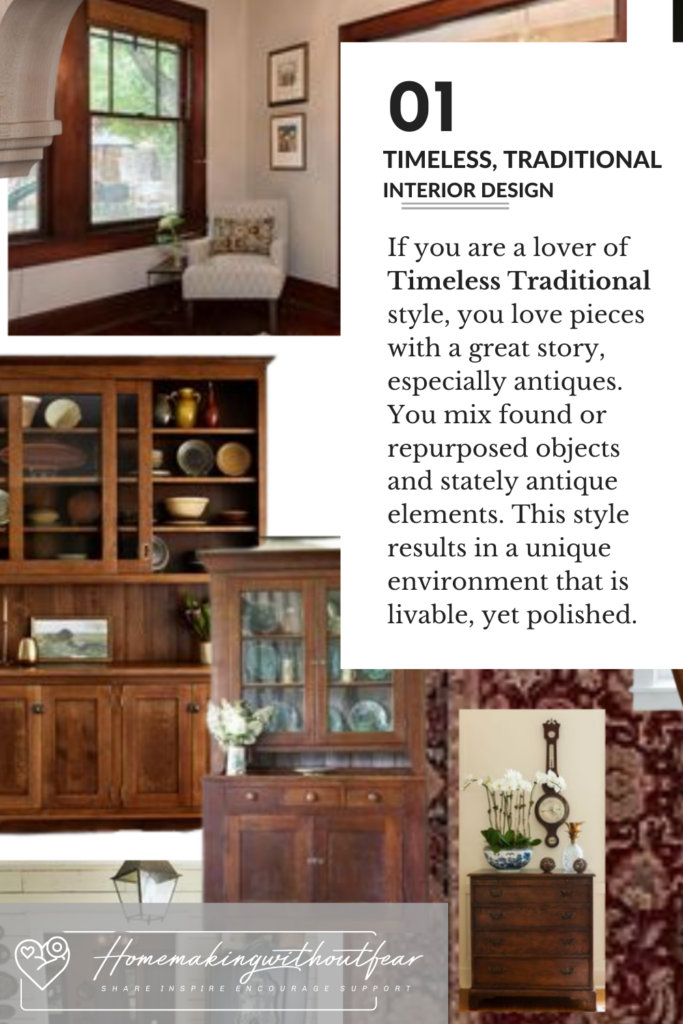 This post may contain Amazon Affiliate Links, which means I make a small commission at no extra cost to you. See my full disclosure at homemakingwithoutfear.com. Furthermore as an Amazon Associate, I may earn from qualifying purchases.
What is Timeless, Traditional Design?
Timeless Traditional design combines American Traditional and Classic formal with a touch of Rustic. It suits me to a tee!
Elements of a Timeless design never go out of style. They aren't trendy or technological. Furniture and decor pieces are quality and well made and often HAND made. They stand the test of time, are designed to be well used, are well loved and often have been passed on from generations.
Traditional style adds a casual, comfortable feel and a classic look that makes you feel warm, cozy and welcome. In this style, colors are rich saturated and warm. This style, I would call earthy and conservative. Lines are symmetrical and rooms are designed with balance in mind.
Love the Timeless Traditional design style like me? Then you really enjoy furniture and decor pieces with a great story, especially antiques. You love a mixture of found or repurposed objects and stately antique elements. The overall resulting look is "put-together" and polished but also very welcoming and livable.
Here are some examples of the

American

Traditional design style: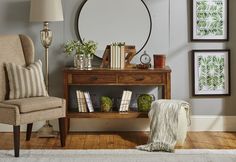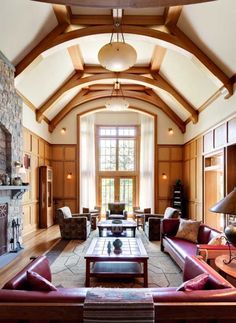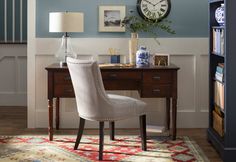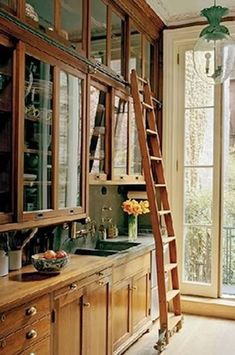 I enjoy the American Traditional Style alot. It has a bit of a Craftsman feel with simple straight lines and bold, rich colors. Furniture is well loved and worn and inviting.
Couldn't you just live quite happily in a American Traditional home?
In MY new home, I am looking for a bit more polish while keeping all the unique charm found in worn, handed down family heirlooms, antique furniture and warm earthy colors.
The following Classic Formal style brings polish that I am looking for.
Here are some examples of

Classic Formal

: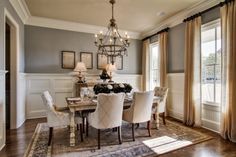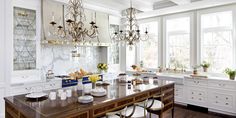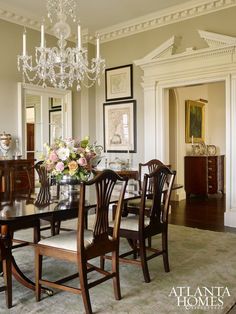 What I love about the Classic Formal style is that it is beautiful no matter the time period. This style is crisp, clean and bright but somehow still warm and comforting.
The design pieces are a bit more curvy, ornate, intricate. . . colors are bright. Colonial, Victorian, Classic ranch and Cape Code decor all have elements of Classic, formal styling.
I am drawn especially to the lighting – cue crystal chandeliers, sparkling crystal, cut glass, glass globes and decorative scones.
It's the curvy, artistic lines in the furniture and accents that draw me in. . . this style really turns up the polish and sophistication.
Now, to throw in a curve-ball. . . here are some Rustic Style Examples: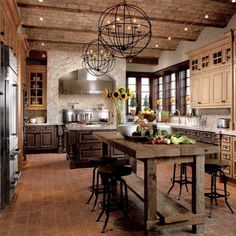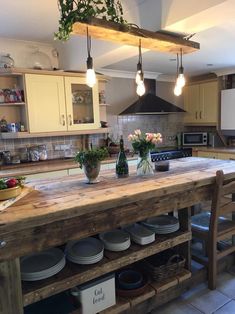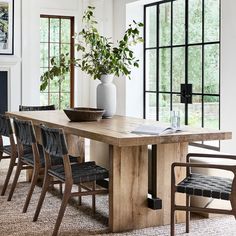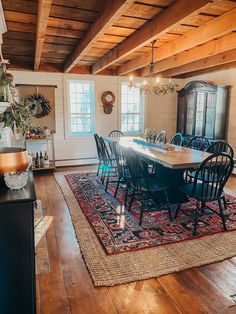 The Rustic Design style brings in lots of natural texture and materials to a space. Warm woods, natural accents, greenery, old/worn repurposed decor items, simple lines.
There's NO dainty or frilly here – just solid, sturdy and so inviting!
The all-natural simplicity of the Rustic style fits Montana so well but I'm looking for something a bit more collected, gathered, handed down. . . more classic and yet bright, clean and polished. . .
Here is what I am calling my Timeless Traditional Style that combines American Traditional, Classic Formal with a touch of Rustic. ((Just that description makes me happy!))
Timeless Traditional Kitchen Inspiration
My Timeless Traditional kitchen has warm, rich wood floors with simple, straight lined, shaker style cabinetry.
Hardware is simple, classic in a warm bronze or aged finish.
Woven, jewel-toned, deeply saturated color rugs add warmth and textural interest to the floors.
Counter tops are crisp, clean neutral-colored and natural stone. (marble, granite, quartzite or even concrete are all great options here)
Upper cabinets incorporate glass and are taller than most kitchen cabinets. Perhaps a thick crown molding with an interesting profile adorns the top.
Lighting is soft. . . lantern, drop, pendant or chandelier-style task lighting provides a soft glow to the space. Beautiful large windows bring in natural light.
Appliances are not ornate but simple, straight lined of good quality and high functionality.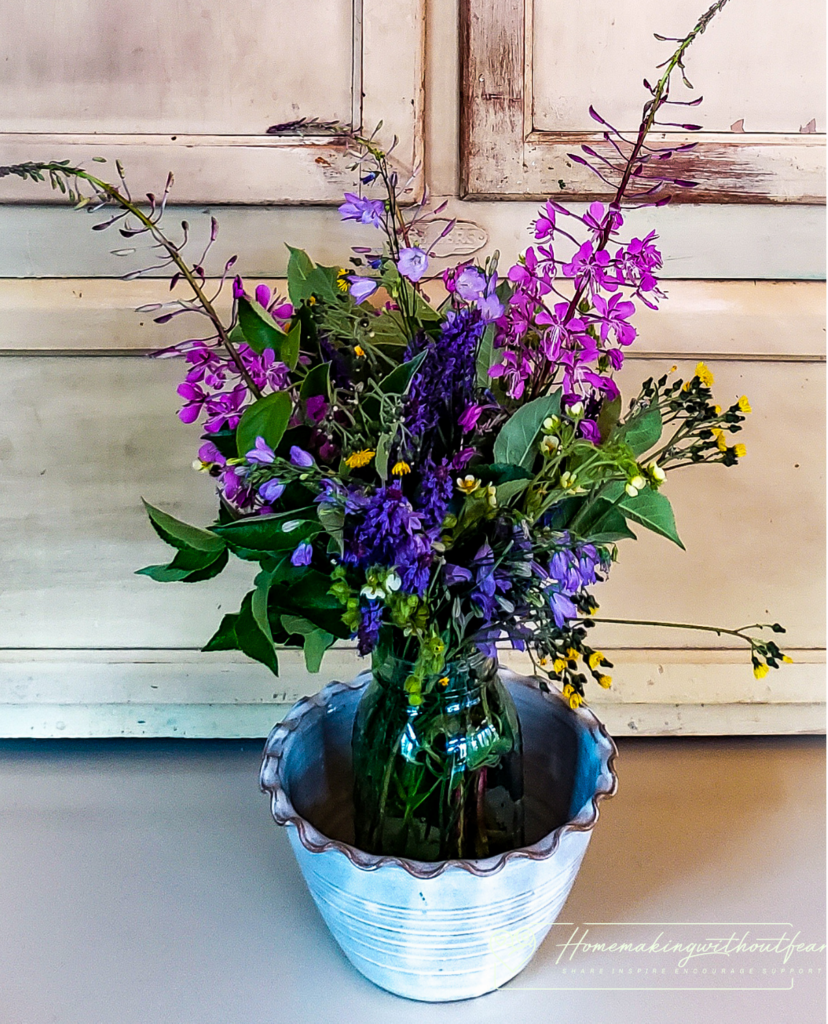 Last but not least, bring in natural accents to the kitchen such as flowers or sprigs of greenery in a beautiful vase or repurposed container. They really brighten and enliven the space.
Timeless Traditional Dining Room Inspiration
My Timeless Traditional dining has much of the same elements of the kitchen with warm wood floors and antique furniture pieces. . .
That deep saturated color is also highlighted here in woven rugs or perhaps wainscoting.
Again. . . lighting is HUGE. . . warm, soft, intimate glow is a MUST. Achieve that with chandeliers, wall sconces on dimmers and CANDLES.
Large beautiful windows to let in NATURAL light and to enjoy the view is priority.
Sturdy, comfortable dining chairs and maybe an oversize plush chair in the corner provide intimate gathering areas.
Warm-toned wood side tables or buffets to display collections or service items . .
Collection such as paintings, photos, China adorn the walls adding a personalized, homey feel.
Timeless Traditional Pantry Inspiration
The Timeless Traditional Pantry is all about practicality. Counter tops reminiscent of old-time grocery stores are a love of mine. . .
Bins, cubbies, drawers and cabinets provide TONS of storage.
Add lots of open shelves with decorative but practical wicker or wire baskets hold all the goods. Glass jars or canisters also provide decorative and practical storage. I recommend keeping shelves fairly shallow (12-18 inches at most). . . it's tempting to build deep shelves to fit all the things but trust me . . . items get shuffled, lost or forgotten about.
The "fancy" comes in the form of a beautiful floor or decorative back splash (wallpaper perhaps?). . .
Lighting is also majorly important here. . . less warm and intimate though. . . go for bright and well lit? Clear glass schoolhouse type lighting is a favorite of mine.
Some of my Favorite Timeless Traditional Elements:
Warm, neutral colors on walls with crisp white trim or accents
Deep, warm and rich wood tones: wood flooring, furniture, shelving, cabinetry
Natural fibers/fabrics in curtains, rugs or upholstery, linen tablecloths and napkins
Natural accents: flowers, branches, green or flowering plants, tasteful taxidermy
Old sturdy well made, handmade furniture, hutches, china cabinets in dark rich tones.
Accent and task lighting. . . no harsh bright lights just warm, cozy light from elegant, beautiful lamps, lanterns, candelabras, chandeliers, sconces
Hardware – dark metals . . .copper, copper patina, cast iron, bronze, aged or oil-rubbed bronze
Nostalgia – try adding family photos (especially old, sepia ones), oil or watercolor paintings of florals or landscapes
Collections – group like items on open shelves or in a wall collage. . . vases, crockery, pottery, china, transfer ware, stoneware, intricate glassware, mirrors, old books, family heirlooms, paintings or artistic photos
Cozy Corners- create intimate cozy small spaces. . . Maybe you do a window reading seat in bedroom, a cozy chair with dim lighting in the corner of a living room, a small coffee bar or baking center in the kitchen. no matter the size of a room. Tray adding smaller more intimate "escapes"
Practicality – think warm, comfortable and inviting but everything in it's place and accessible. This style is easy to live in. . . It is already worn, and well loved and holds up well to family life.
Timeless Traditional Design Board for MY Kitchen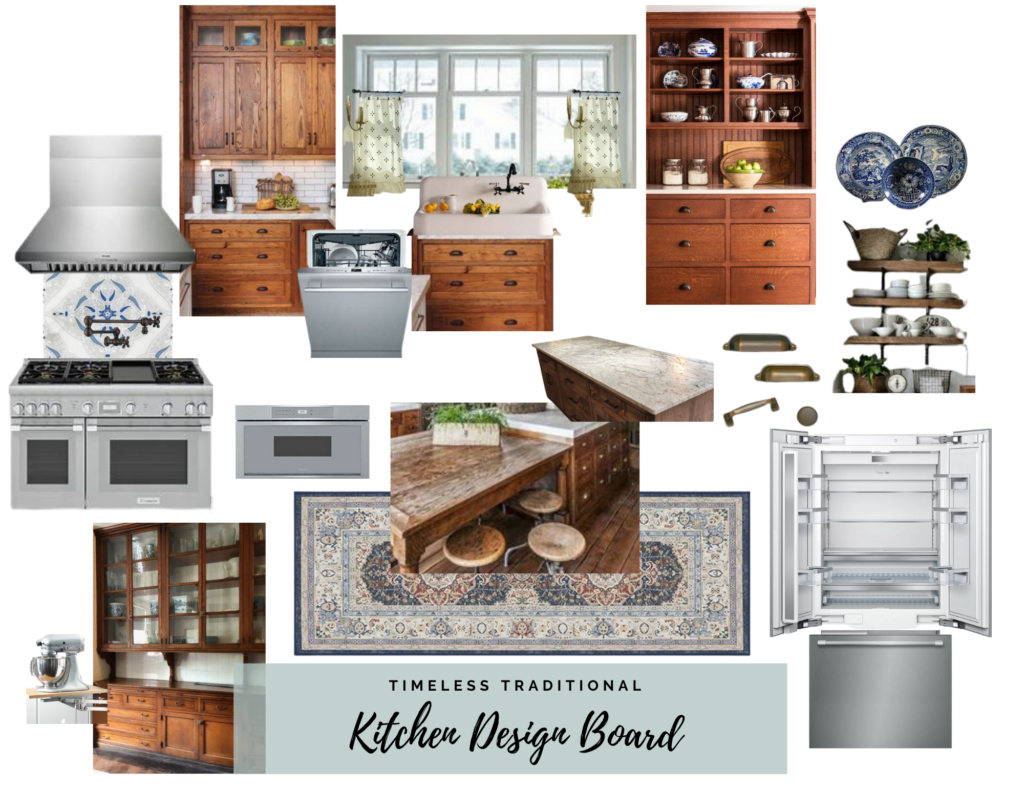 My Pantry Design Board for Timeless Traditional Style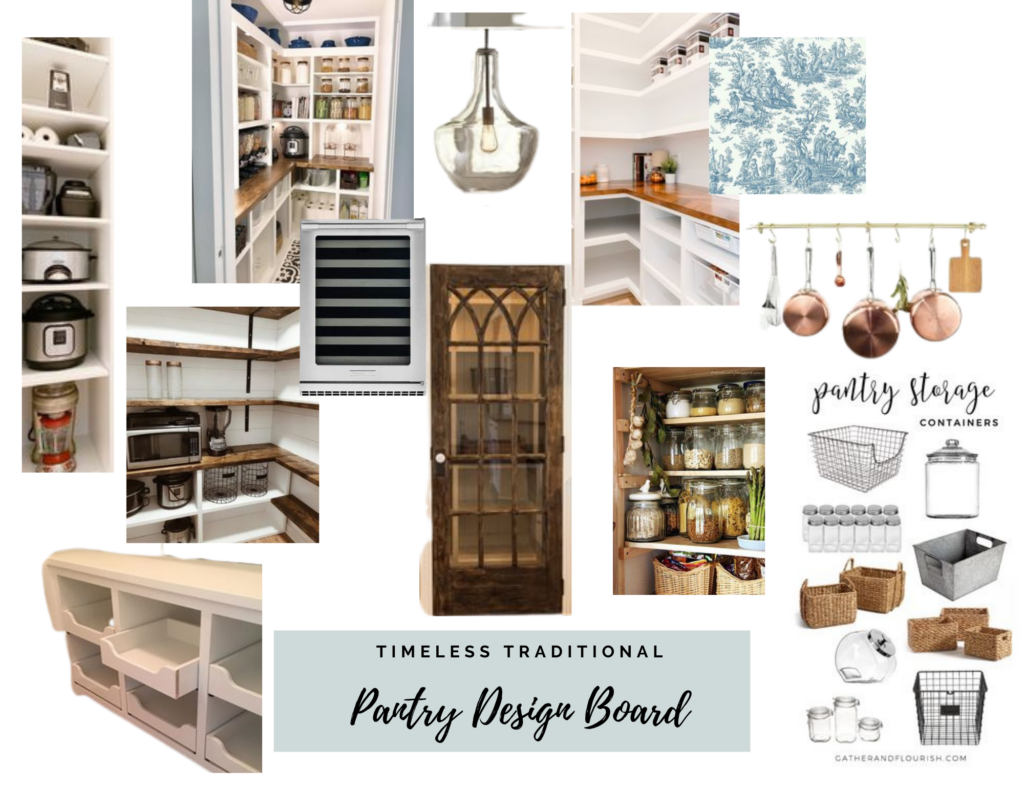 Timeless Traditional Design Board for MY Dining Room
Is your style Timeless, Traditional? Or are you unsure like I was?
I was able to label and understand my unique design style by taking a quick style quiz. . . this helped me to really narrow down my Pinterest searching for more focused inspiration. Want to try it to find YOUR personal style?
Lastly, are you a Podcast Lover?
I would HIGHLY recommend Homemaker Chic Podcast. I think you would really enjoy Episode 106: Designer Baby Steps
Hey Friend,
This was a super fun post to share with you. We are incredibly blessed to be building a new home and I look forward to sharing more Timeless, Traditional design plans with you all. Drop a comment below and tell me how you best describe YOUR design style.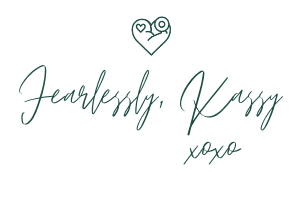 Need more Inspiration?
Have you seen my wicker patio furniture makeover? Wicker is such a beautiful way to add a timeless, traditional style to your outside living space.
Pin it for Later