A functional and BEAUTIFUL pantry is an essential part of any home. Be it a cottage, farmhouse or country home – a pantry must function like a workhorse. BUT it can also be simply pleasing to the eye. Antique or heirloom treasures special serving dishes, glassware, artwork, copper, baskets, glass jars are all functional AND beautiful. Foods like canned goods, dry goods and staples can all function as natural beauty too. A Timeless Pantry is a home cook's treasure and simply a joy to work in.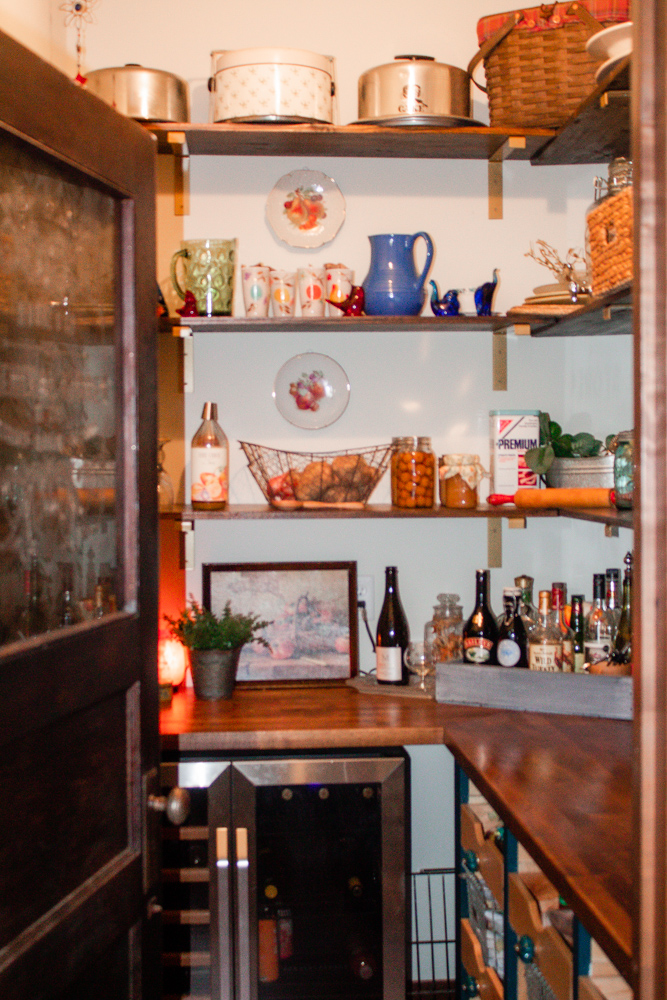 This post may contain Amazon Affiliate Links, which means I make a small commission at no extra cost to you. See my full disclosure at homemakingwithoutfear.com. Furthermore as an Amazon Associate, I may earn from qualifying purchases.
What is a Timeless Pantry?
The Timeless Pantry is all about practical, homey beauty. Think every day foods openly out, easily accessible but also on display.
Serving vessels and dishes are at easy reach and never hidden away because many are in themselves works of art.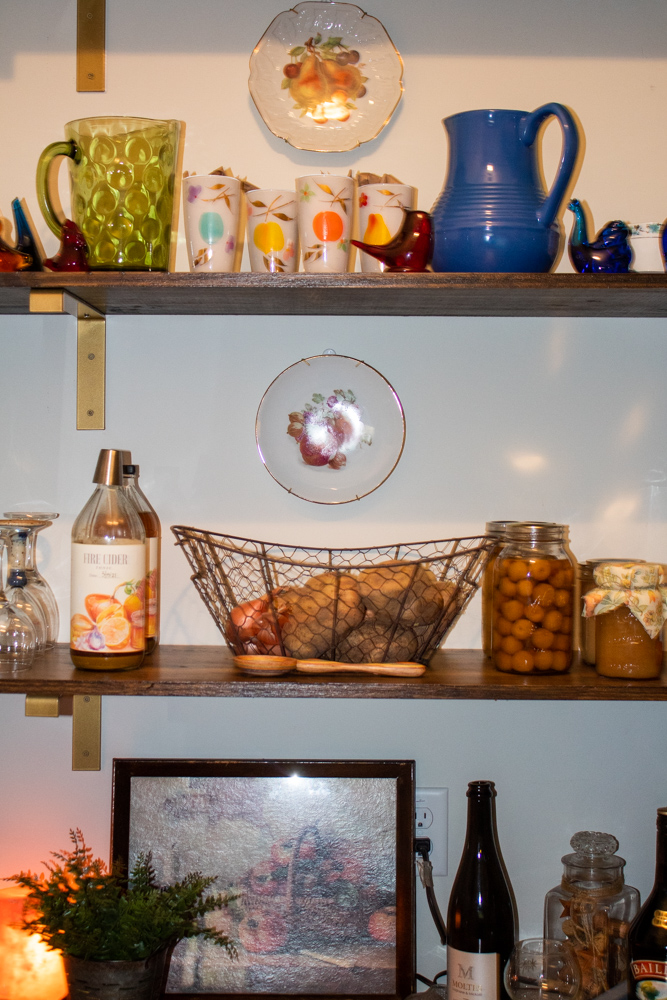 Come along with me and WATCH as I put my Timeless Pantry Together
Counter tops reminiscent of old-time grocery stores – think wood, butcher block or natural stones.
Bins, cubbies, drawers and cabinets provide TONS of adjustable, customizable storage. 
Lots of open shelves with decorative but practical wicker or wire baskets hold all the goods. Glass jars or canisters provide decorative and practical storage. I recommend keeping shelves fairly shallow (12-18 inches at most). . . it's tempting to build deep shelves to fit all the things but trust me . . . items get shuffled, lost or forgotten about.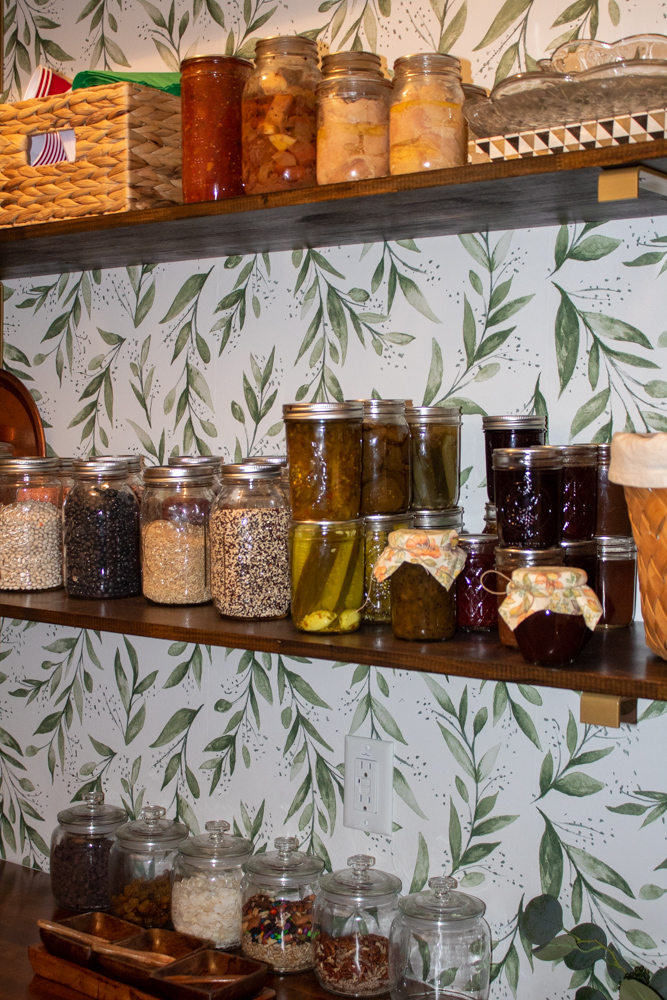 The "fancy" comes in the form of a beautiful floor – maybe an eye catching tile design or decorative back splash (wallpaper perhaps?)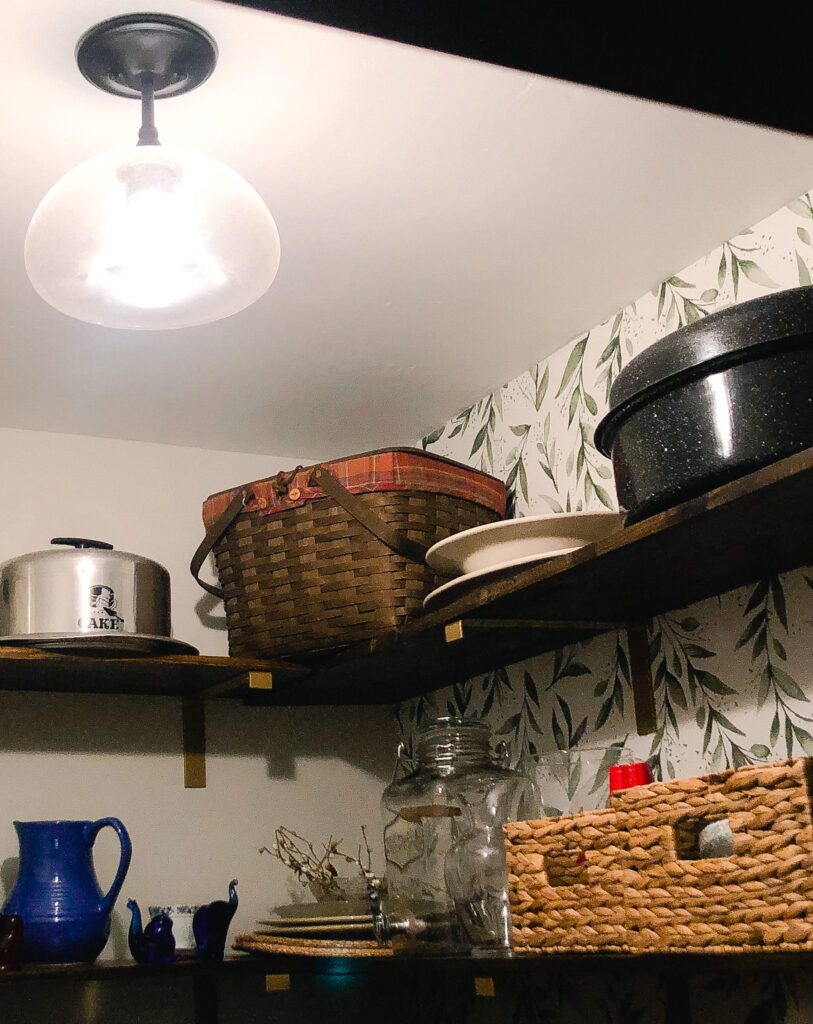 Lighting is also majorly important here because this IS a workspace after all. I enjoy a simple clean school house type pendant. . BUT consider adding warm and intimate secondary options like small lamps or candles. . . .more on that to come!
Elements of a Timeless Pantry
(More details on each category as you read on!)
Collections
Books and References
Beautiful storage containers
Open Drawers & Shelves
Glassware
Antique, vintage or handmade vessels
Warm wood tones
Artwork
Greenery
Textiles
Lighting
Food!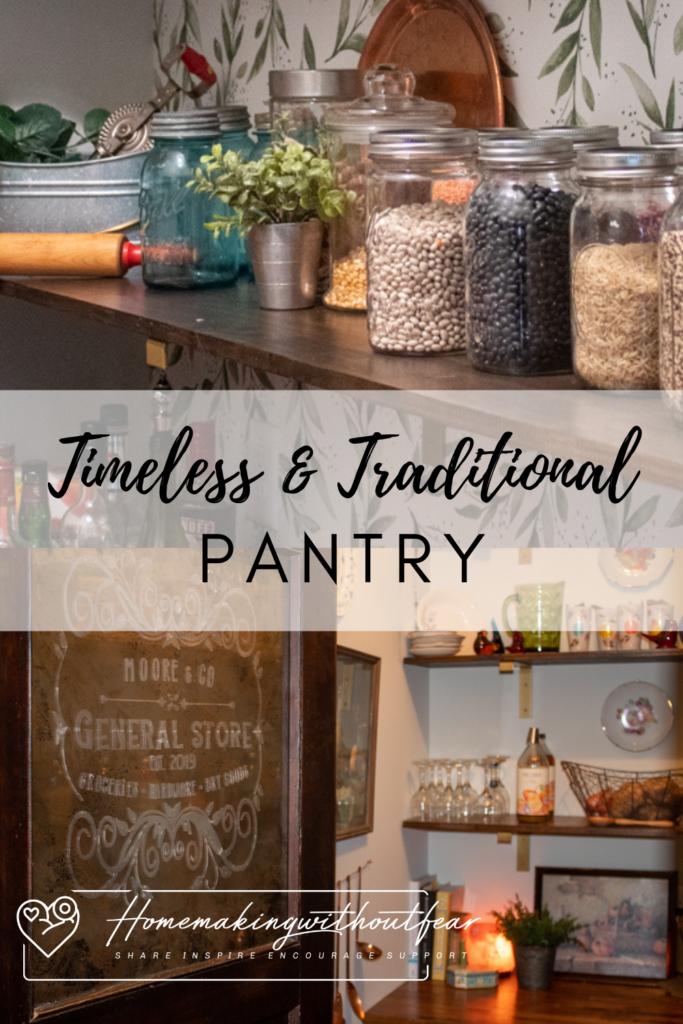 Collections
Antique dishes, drinking cups, copper pots or serving spoons – anything you like to gather because they are beautiful! You have my permission and actually I am ENCOURAGING you to collect something.
What do you like or what WOULD you like to collect? Drop it in the comments below. I'd love to know.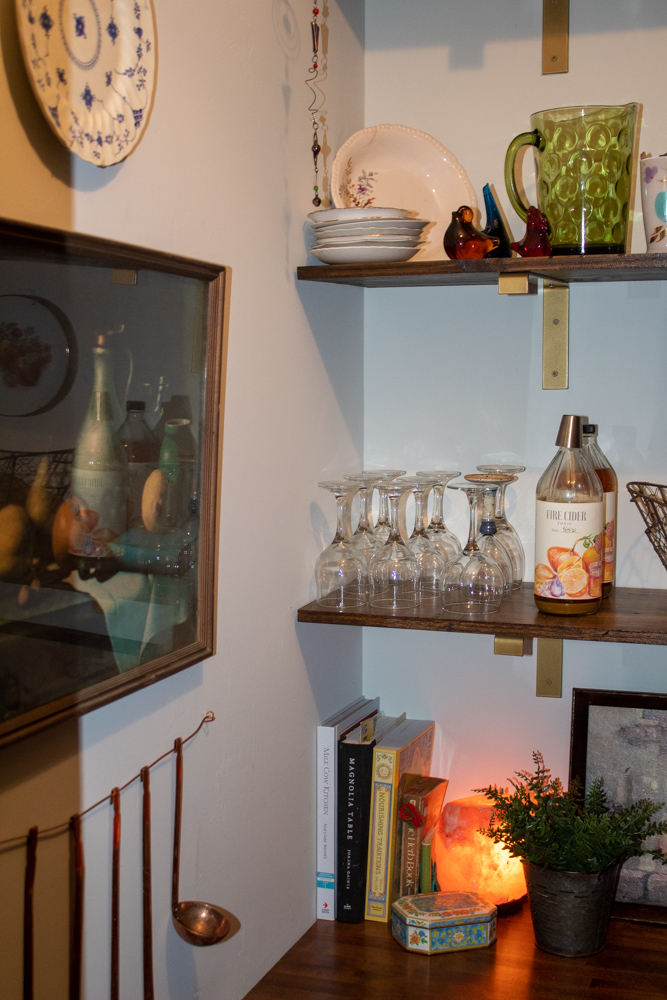 Collecting something adds so much fun to shopping trips and really amps up the thrill of the hunt when you go thrifting or antique shopping. What fun when you find the perfect new addition?!
No matter what you like to collect, I recommend grouping like items together as for eye-catching decor statement.
Useful Books
Cookbooks, kitchen references and handwritten recipes are all wonderful warm and homey additions to a Timeless Pantry.
I have handwritten, well used and obviously well used recipes from grandmothers, aunts and friends.
A smudgey, wrinkled recipe card just means it was made often and loved much. wouldn't you agree?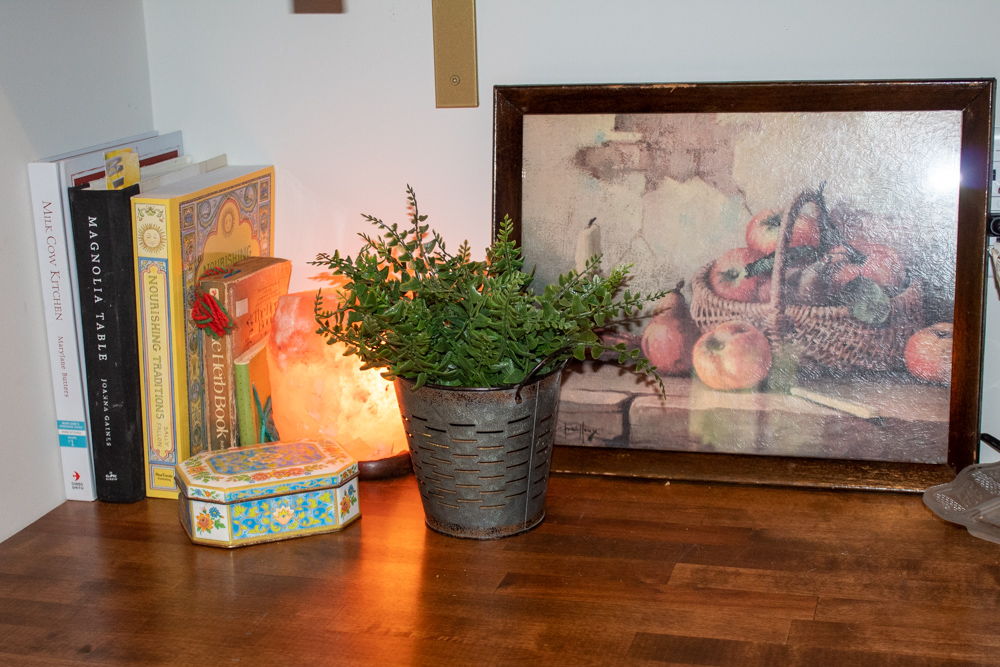 Eye Catching Storage Containers
Glass canisters, woven baskets, wire baskets, jars, earthenware and pottery are all practical and drop dead gorgeous ways to keep a pantry organized but also beautiful.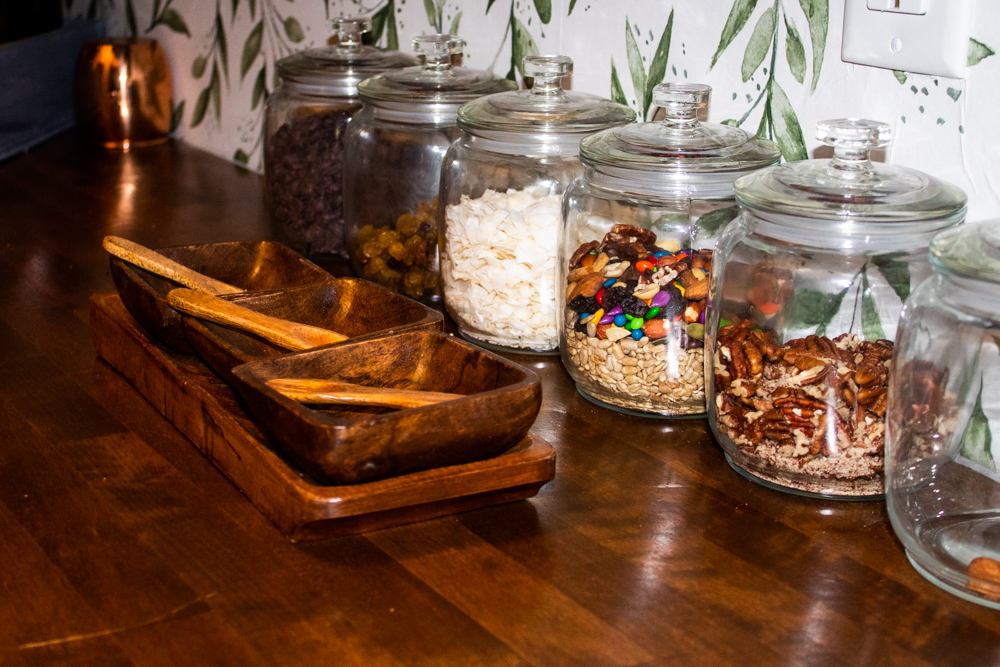 I really enjoy uniquely shaped clear glass jars and also wooden bowls. My family makes pottery and there is just something special about earthenware that you know was formed by someone's skilled, careful touch.
So intimate not to mention beautiful.
Different types of storage containers grouped together can give your eye a place to stop and rest in the space. Large pieces can act as a focal point, a statement piece because they are art in themselves.
Open Drawers & Shelves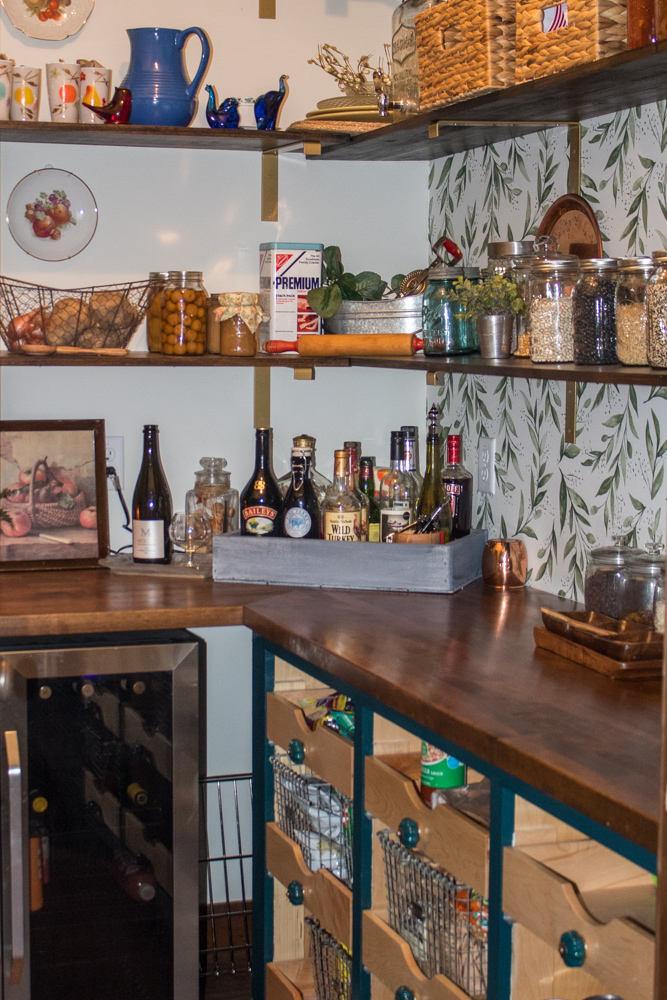 Don't be afraid to keep everything right out where you can see it and get to it.
Grouping like items together and utilizing beautiful containers keeps the space tidy and appealing despite being open. Don't be afraid of clutter – a timeless style is not minimalist! It is SUPPOSED to appear fruitful and abundant.
Opposite of what you would think, I find open shelving more accessible, easier to find things, check inventory, keep well stocked and organized. I actually find that items hidden behind closed doors more easily become a disheveled mess.
If it's hidden away, it's easier to be forgotten about and wasted too. No one wants that!
Glassware
Maybe you found or was given a SET of beautiful stemware? Hand painted drinking glasses perhaps? Glassware comes in all colors, styles and FANCY patterns. It is Timeless, elegant and super fun to collect too.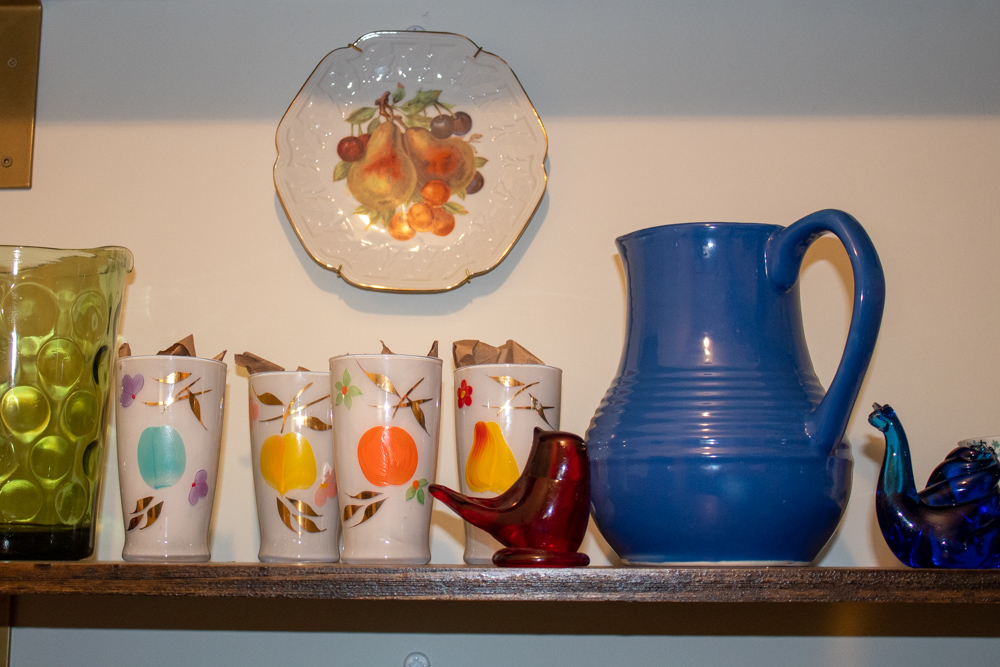 Glassware in the form of storage canisters and even mason jars add a simple yet polished look to the pantry. I appreciate SEEING what I actually have and being able to recognize right away what needs replenished.
Why keep grains, beans and rice in boring old plastic tubs or containers when you can but them on display in glass jars? You know what you have, when to reorder AND talk about natural beauty.
Antique or Vintage Vessels
Flower vases, beautiful pitchers, metal tins, wooden bowls, small boxes – anything goes here.
They are all different, unique and add a real element of interest and story.
Consider creating a vignette (a cluster of items put together to form a little scene or snapshot) on your counter.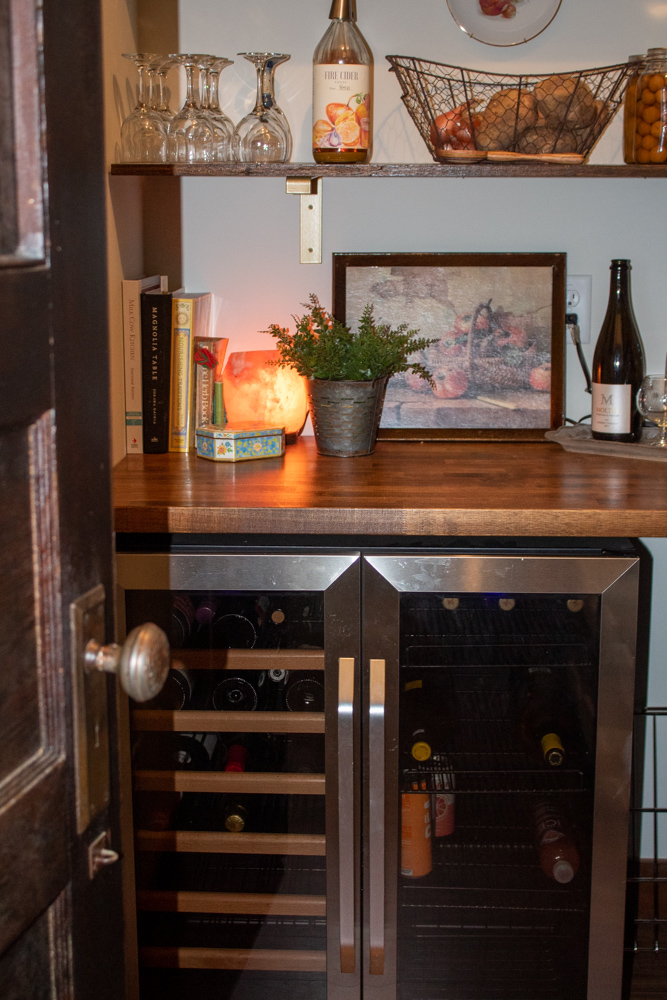 In the photo above, I have grouped a thrifted print of a harvest basket, overflowing with apples, warmly lit salt lamp, green plant, small metal floral tin from my great grandmother and an empty champagne bottle and glass from our new home move-in celebration. This vignette says nostalgia, abundance, gratitude and life to me.
Warm Wood Tones
Adding warmth and a natural place for your eye to rest is done with wooden items. You can find really beautiful wooden pieces at home goods stores, thrift shops and antique sales.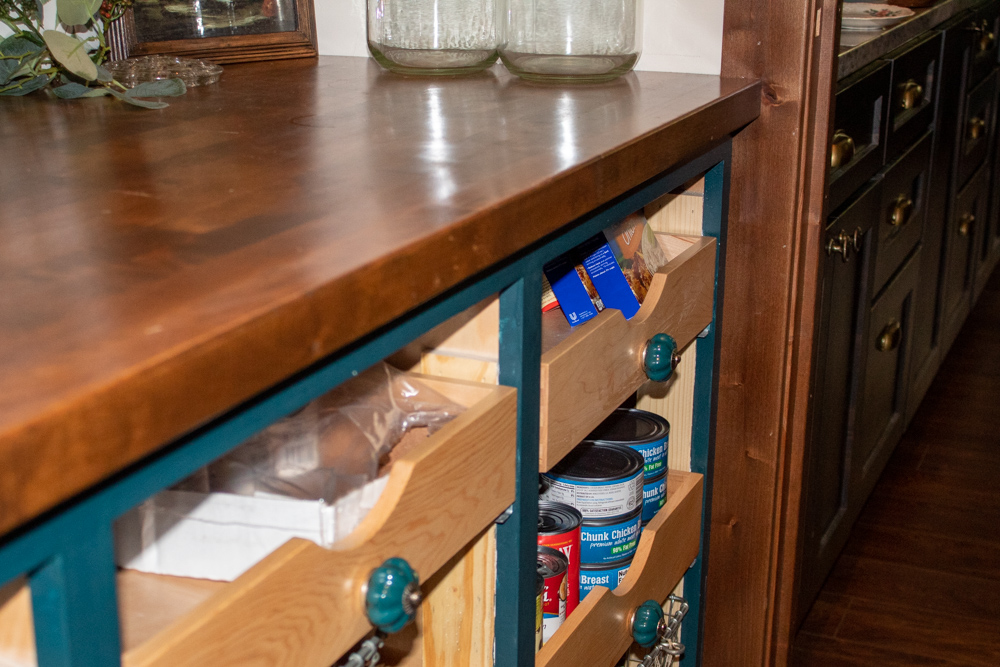 Consider items like cutting boards, wooden bowls or spoons and even butcher block counters to naturally warm up your space.
Artwork
Think antique, vintage or heirloom- bonus if it's food related content.
Artwork can come in the form of paintings, photos and even prints – framed or unframed. One of my favorite places to get vintage prints in pinch is Etsy. There are all kinds of wonderful instant downloads for very inexpensive.
Don't be afraid to use a downloaded print or photo temporarily as a placeholder and hold out for that perfect piece!
Greenery
Although not necessary for function in a pantry – a POP of green brings LIFE to any space. Faux stems or real, your choice. . .
Bringing this natural element indoors adds brightness, abstract shape and interest to a space – especially a small space like a pantry.
A pantry is used even single day – give it vibrant LIFE by adding plants, flowers or greenery.
Textiles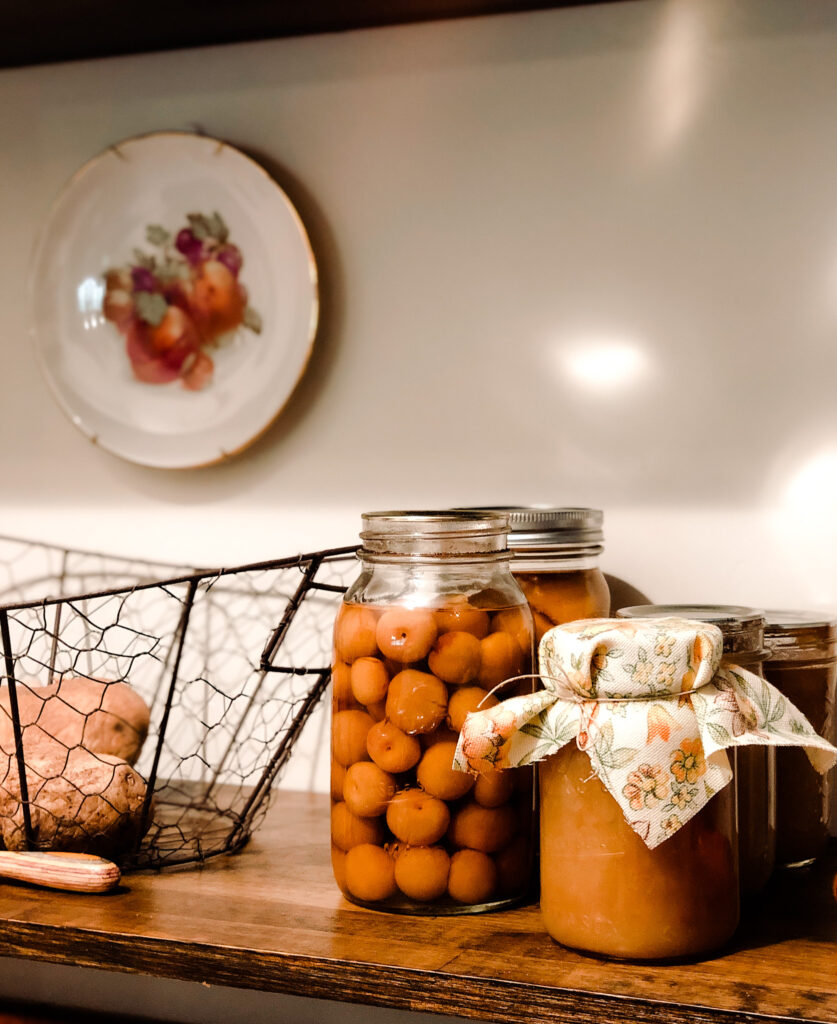 Fabrics on jars, tablecloth or woven place setting – maybe a beautiful vintage runner rug on the floor!
Fabrics add a homey, cozy feel to a space. It tones down harsh shapes and adds softness to the edges of the decor.
Use all kinds of textiles to add interest to the space, making it unique and individual. You can really express your personal style here. Have fun with this one!
Let there be Light
I have candles and also a salt lamp in my pantry. Make sure you have enough light happening to see what you are looking for but keep other lights soft and task oriented.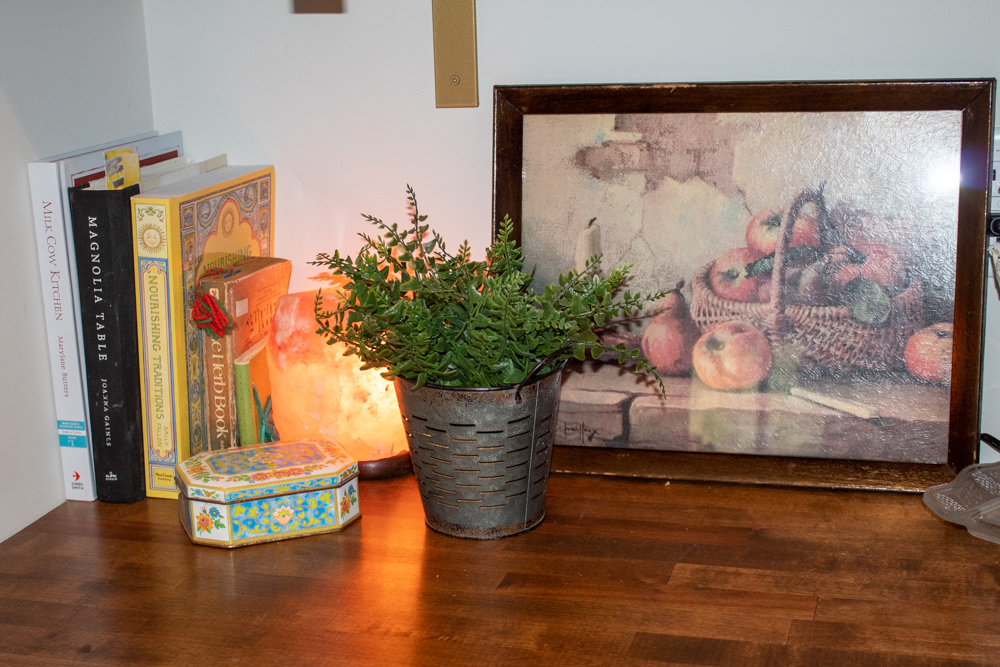 Warm light from small lamps, sconces, candles. Overhead schoolhouse lights are a favorite for a simply, timeless general lighting.
The combination of lower task lighting and brighter overhead general lighting gives you options for creating moods. I really enjoy keeping a soft low light in the evenings as the kitchen closes down and quiets for the night.
Clean, light, clear lighting creates a very peaceful & enjoyable atmosphere to work in as opposed to harsh offensive, bright, lighting such as fluorescent.
What would a Timeless Pantry be without FOOD of Course!
Display your food items on open shelves and group like items together.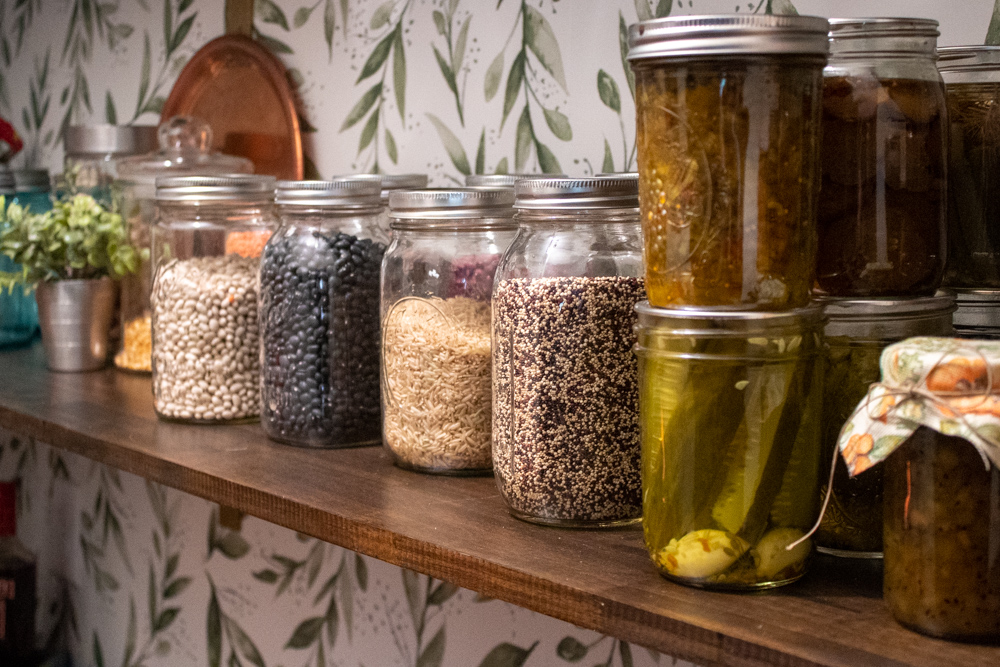 Feature your canned goods front and center. You need to get to them easily and use them up for next season. AND they are a work of art in themselves!
Hey Friend,

Thanks for letting me share my Timeless hard-working pantry with you. I hope you got some inspiration and ideas for creating your own Timeless Pantry. Remember don't spare beauty in place of function. The two can be one! Highlight and embrace natural beauty in your kitchen essentials and even your food supply. What is your favorite element to add to a Timeless Pantry Look?? (comment below)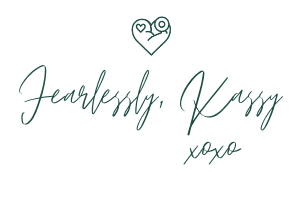 Shop Homemaking without Fear Kitchen & Pantry Essentials on Amazon:
Pin These Timeless Pantry Ideas for Later