Designing and dreaming continue this week! . . . I am working on my favorite spaces second to the kitchen – Bedrooms! I continue to draw on Timeless Traditional Decor in these spaces. This style is perfect for creating intimate, comfortable, cozy bedrooms. Let me show you my plans and I can't wait for the finished reveals.
Let me remind you what Timeless Traditional Decor is all about.
Timeless Traditional combines American Traditional and Classic Formal with a touch of Rustic.
Elements of a 

Timeless 

decor never go out of style.
They aren't trendy or technological.
Decor is often simple, practical and multi-purpose.
Furniture and decor pieces are quality, sturdy, well made and often HAND made.
Pieces are designed to be well used, well loved and often have been passed on from generations.
Traditional

 decor adds a casual, comfortable feel and a classic look that makes you feel warm, cozy and welcome.
Focus on colors that are richly saturated and warm.
Natural, earthy and conservative is the overall vibe here!
Go for lines that are symmetrical and keep balance in mind when putting the rooms together.
Timeless Traditional combines the BEST of both worlds.
Look for furniture and decor pieces with great story. Maybe you already have cherished antiques that have been passed down through the generations?
Found or repurposed objects and stately antique elements complement the overall look.
Highlight and display beautiful collections or family memorabilia – no minimalism here!
Slightly eclectic but also put-together and polished is the end goal.
Timeless Traditional Decor is very welcoming and highly livable.
Key Features of Timeless Traditional Decor:
Warm, neutral colors on walls with crisp white trim or accents
Deep, warm and rich wood tones: wood flooring, furniture, shelving, cabinetry
Natural fibers/fabrics in curtains, rugs or upholstery, linen tablecloths and napkins
Natural accents: flowers, branches, green or flowering plants, tasteful taxidermy
Old sturdy well made, handmade furniture, hutches or china cabinets in dark rich tones.
Accent and task lighting. . . no harsh bright lights just warm, cozy light from elegant, beautiful lamps, lanterns, candelabras, chandeliers, sconces and beeswax candles.
Hardware – dark metals . . .copper, copper patina, cast iron, bronze, aged or oil-rubbed bronze
Nostalgia – try adding family photos (especially old, sepia ones) or oil and watercolor paintings of florals or landscapes
Collections – group like items on open shelves or in a wall collage. . . vases, crockery, pottery, china, transfer ware, stoneware, intricate glassware, mirrors, old books, family heirlooms, paintings or artistic photos
Cozy Corners- create intimate cozy small spaces. . . Maybe you do a window reading seat in bedroom, a cozy chair with dim lighting in the corner of a living room, a small coffee bar or baking center in the kitchen. No matter the size of a room, try adding smaller more intimate "escapes"
Practicality – think warm, comfortable and inviting but everything in it's place and accessible. This style is easy to live in and holds up well to family life because it is already worn, and well loved.
Let's Talk Bedrooms!
I am designing 4 bedrooms – a master suite, guest room, my son's room and a room for my two daughters.
NO SURPRISE! I am featuring Timeless Traditional Decor in all these rooms. It really adds that cozy, comfy, lived in vibe that makes a bedroom feel like an intimate escape. . .
Isn't this EXACTLY what we want in a bedroom oasis?
Would you love to see the finished rooms? – If you do, I would love to create a blog post sharing the end result with all the direct sources. I would love for you too to recreate these looks.
I am DELIGHTED to share my bedroom design boards with you. Enjoy them and be sure to follow my links to each individual Pinterest Board for more inspiration. Happy Designing!
Mastering the Master
A master bedroom must feel like a private, peaceful escape! Do you love a dark, moody intimate bedroom?. . . I am going a little masculine because after all it isn't just MY space. A dark bedroom is at my husband's request and I think I can accommodate that! A deeply saturated accent wall at the head of the bed will be just the thing.
I love the idea of an interesting feature wall too. What do you think of board and batten or another interesting paneling look? . . . stay tuned for what I decide!
I'll lighten things up a bit with a cozy sitting area/reading nook in the corner next to a bright window. Quality, soft accent lighting is a must. No harsh lighting in the bedroom please!!
Timeless Traditional Decor for Master Bedroom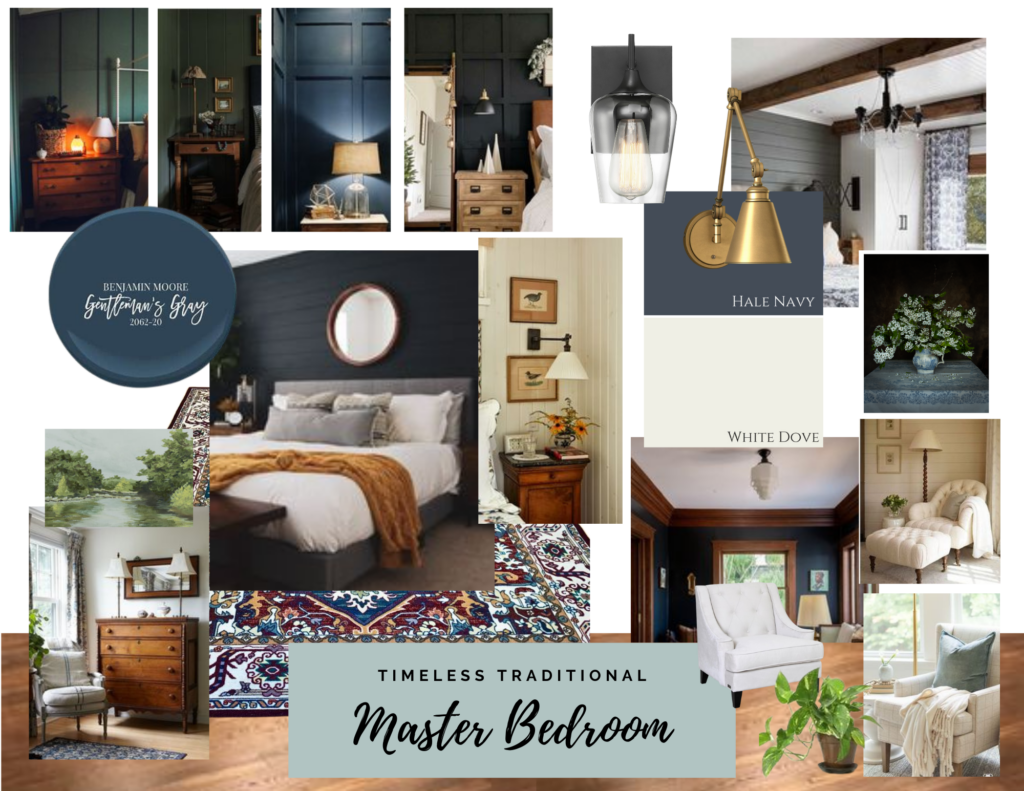 He's an All-American Boy
For my son I am going Timeless, Traditional Americana. This stays very much within the guardrails of Timeless and Traditional by incorporating saturated color, natural textures, crisp straight lines with a bit more of the rustic edge.
He loves cars, planes and military memorabilia. I will make sure to highlight those things for him.
Timeless Traditional Decor for Boy's Bedroom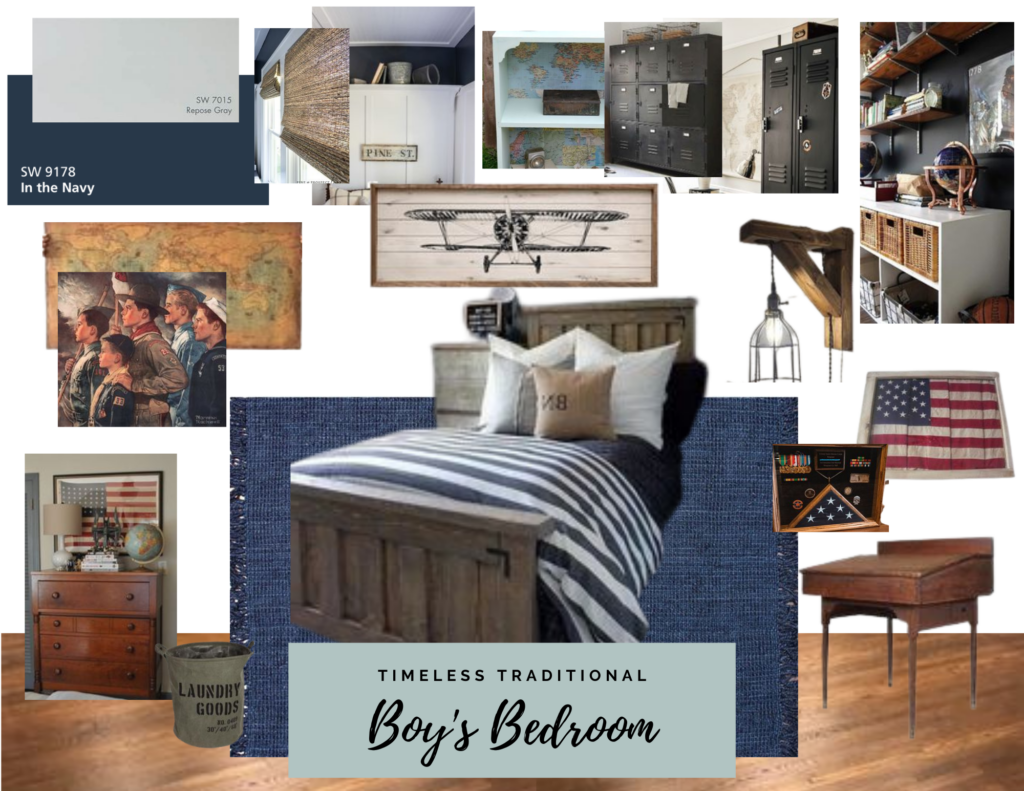 My Sweet Girls
My girl's room will lean more towards the Classic Formal side of Timeless and Traditional decor.
How do I capture this look?. . .think a vintage chandelier, bright & light but still warm color tones, light flowy linens and cozy little corners. I have always envisioned a window seat in their room.
Timeless Traditional Decor for Girl's Bedroom
A Guest's Oiasis
I am keeping the guest room simple, crisp and cozy. . . sitting area, bookshelves to encourage curling up and reading by natural light. Soft, cozy bedding, accent lighting, antique bedside stand, floral prints. . . it will be a relaxing retreat for any guest.
Timeless Traditional Decor for Guest Room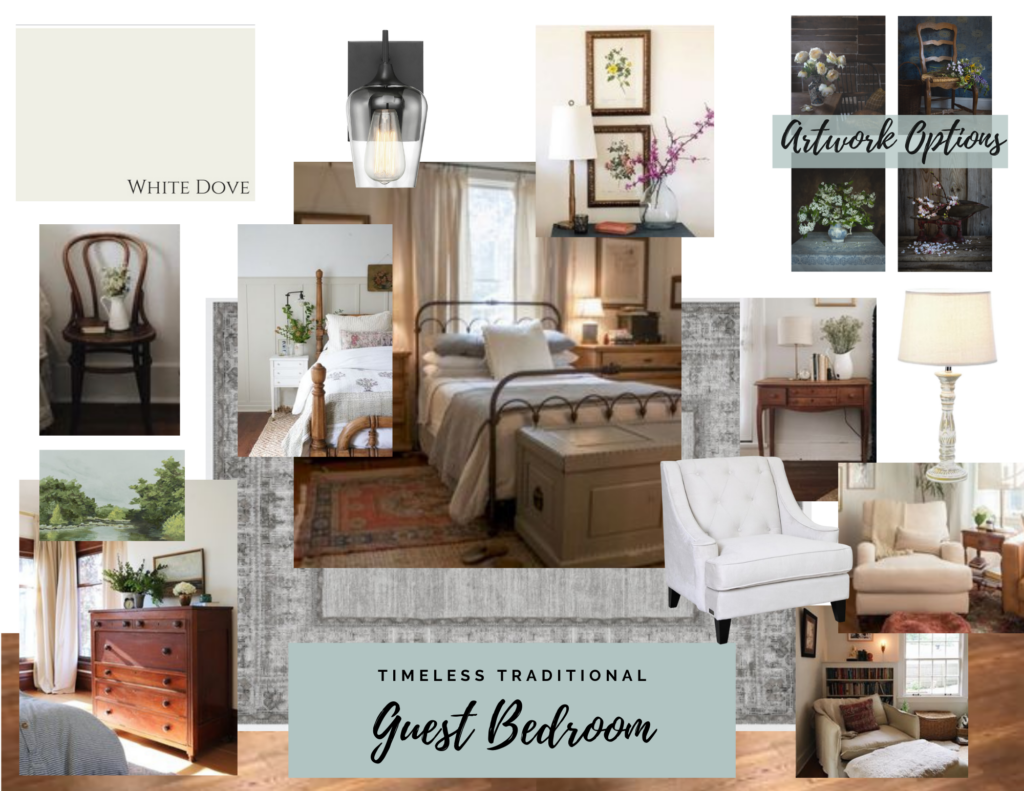 Need More Inspiration?
This post may contain Amazon Affiliate Links, which means I make a small commission at no extra cost to you. See my full disclosure at homemakingwithoutfear.com. Furthermore as an Amazon Associate, I may earn from qualifying purchases.
Did you miss my Timelss Traditional Kitchen, Dining & Pantry Designs? Read all about it Here!
Thank you my Dear Friend for stopping by the blog today. I am pleased to tell you that our new home is coming right along.When it is finished, I will be putting these design DREAMS into action. I can't wait to share the finished results with you.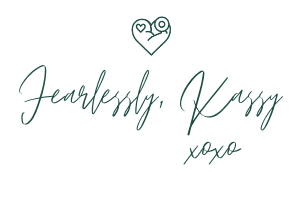 Pin it for Later: