Wicker patio furniture has that classic, timeless style. It is simple but beautiful, inviting and incredibly comfortable at the same time. While there are gorgeous NEW wicker sets out there, there's just something about restoring an old crusty set to its former glory. That is just what I did a few weeks ago and I love the result. Come along with me as I share the process of my Wicker Patio Furniture Makeover.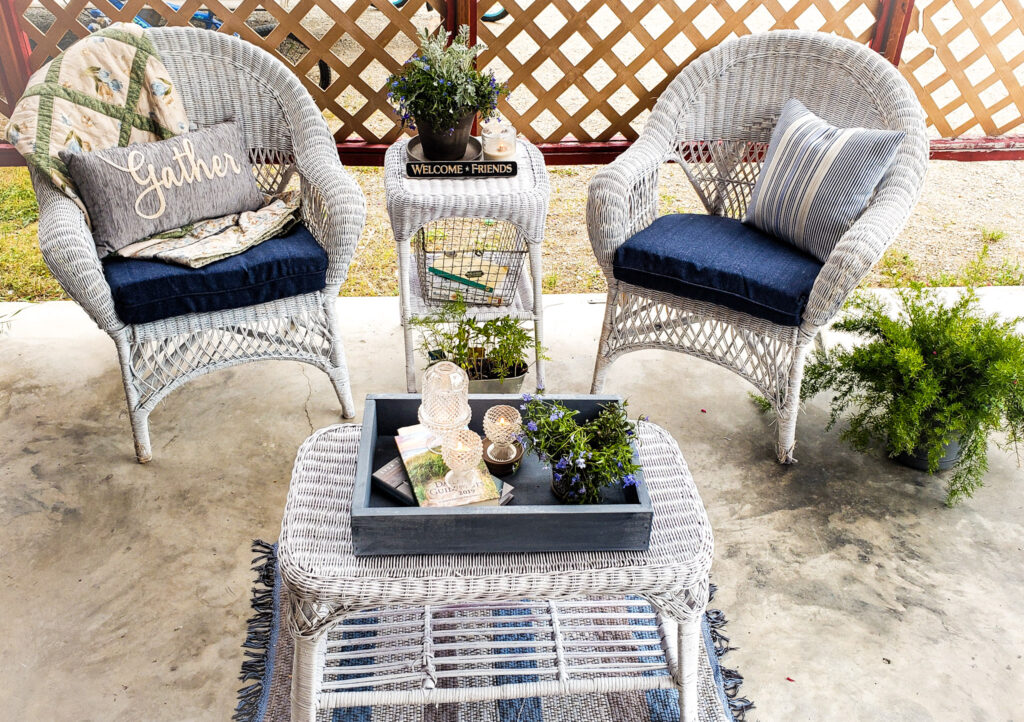 This post may contain Amazon Affiliate Links, which means I make a small commission at no extra cost to you. See my full disclosure at homemakingwithoutfear.com. Furthermore as an Amazon Associate, I may earn from qualifying purchases.
As I said I love wicker and had been looking for a used patio set for a while. Brand new sets can be quite expensive. Even older sets hold their value but if you look long enough you can find one for not a lot of money.
I kept my eye on Facebook Marketplace for a while and after a few weeks, a beautiful wicker patio set came up for sale near me. It had been painted, was peeling and needed some TLC AND that is right up my alley . . .so I jumped on it.
Here is the BEFORE picture of my Wicker Patio Furniture in DESPERATE need of a makeover :
I didn't mind the blue color so much but the MAGENTA had to go!
The blue paint was flaking terribly . . . it was a matte spray-paint color and just didn't hold up. The magenta spray paint was gloss and unfortunately it had held up very well.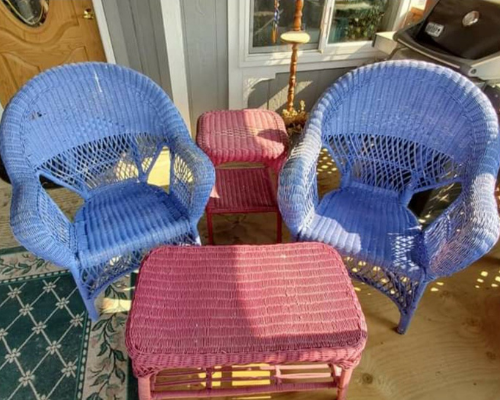 I wasn't EXACTLY sure what color to repaint them but when I picked them up, I was told they had originally been white. . . In addition to that, I could not get enough spray paint at my local hardware store in any ONE color but white . . . WHITE it is!
I went with a gloss white finish as the gloss spray paint creates a sort of shell, encasing the wicker with a tighter bond. Gloss finish is also easier to clean. Lastly, if I ever decide to repaint them it will be MUCH easier to cover white than it was to cover blue and magenta. . .
Wicker Patio Furniture Makeover AFTER picture:
I love it! The white turned out clean and bright. . .they could have used another can or two of spray paint but I had already used 8 cans and ran out!
The addition of soft wicker chair cushions, throw pillows, candles and plants made for a very inviting outside space.
How I completed this Wicker Patio Furniture Makeover
Step 1: Thoroughly clean and prepare furniture for paint.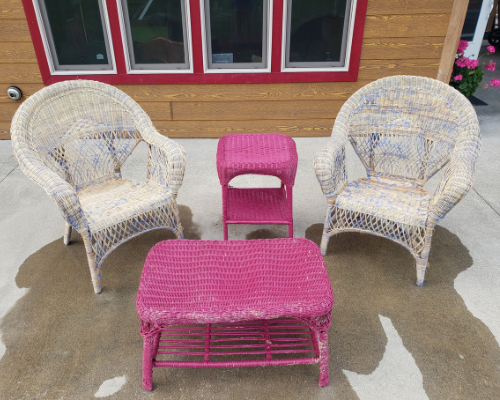 I did this by pressure washing dirt and loose paint from all surfaces of the furniture.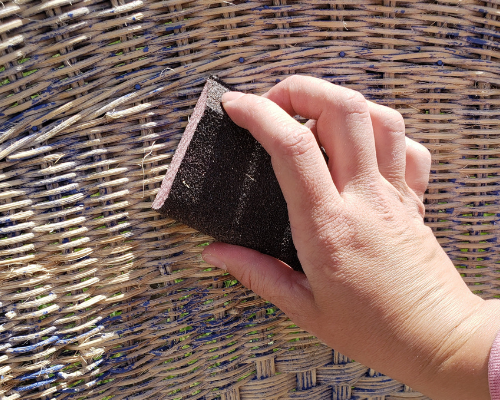 I also sanded the rough surfaces and roughed up the shiny surfaces of the magenta paint so the new coat of spray paint would bond better.
Step 2: Repair any loose or broken pieces of wicker.
While it is important to start with furniture that is solid and sturdy, a few minor repairs are no problem. I used a wood-repair epoxy putty (JB KwickWood) to rewrap and reattach any loose bits of wicker. I also used this putty to fill in a couple larger holes in the wicker chair backing. This product worked great because it was mold-able like play-doh, set and dried super fast and was ready to paint in minutes.
There were a few extra pieces of wicker wrapping that were loose and I chose to clip those off.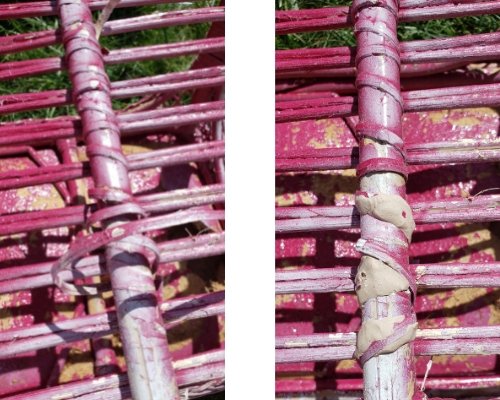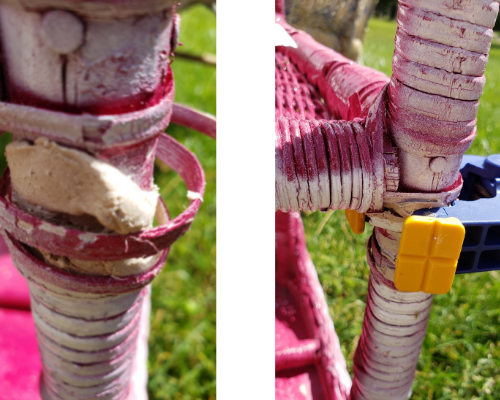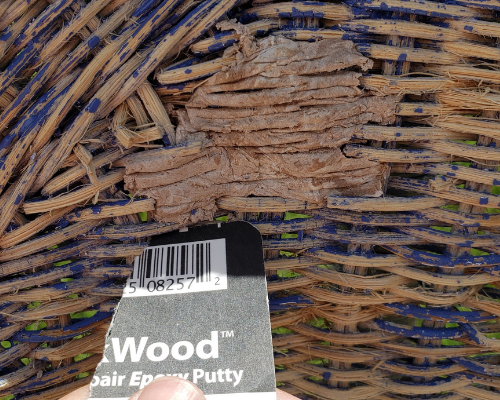 I used the wood putty to repair a larger hole in the back surface of one chair as well. . . because it is mold-able, I was able to make it look a little bit like the original wicker.
Step 3: Spray Paint your furniture
I would recommend a GLOSS finish spray paint AND PRIMER in one. This creates a better bond and a gloss finish gives a hard protective shell to your furniture making it easier to scrub or hose clean.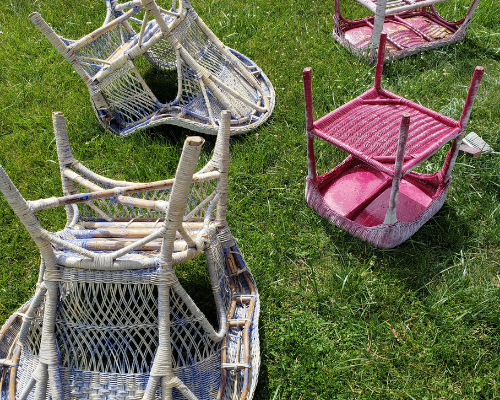 Another good tip when painting is to flip your item upside down and paint the bottom first. . . let them dry and flip them back over to spray the tops and sides.
Step 4: Reapply coats of spray paint, drying in between coats.
The nice thing about spray paint is it dries quickly so you can do multiple coats . . . and you will certainly need multiple coats. Be prepared to use A LOT of paint. Wicker has a lot of surface area that is deceiving.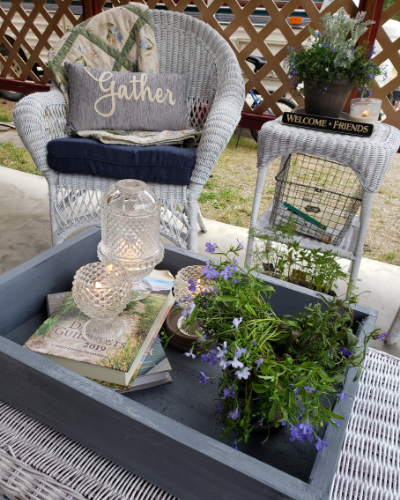 I used 8 cans of spray paint for 2 chairs, 1 side table and 1 coffee table and could have easily used 2 more cans. Bare wood soaks up a lot of paint and when you are trying to cover a dark color with a lighter one . . .it requires a lot of paint.
Step 5: ACCESSORIZE!! . . . This is my favorite part!
I found wicker chair cushions and outdoor throw pillows at a local Home store for a steal but here are similar cute options:
A wooden tray sitting on the coffee table makes a great solid surface for books, candles or a plant. You can also set a cup of coffee (or wine) down without wobbling. . . I couldn't find what I wanted in our small town but I did find a random wooden decor box that was meant to sit upright, painted it and turned it into a wooden coffee table tray.
Here is a similar, beautiful option: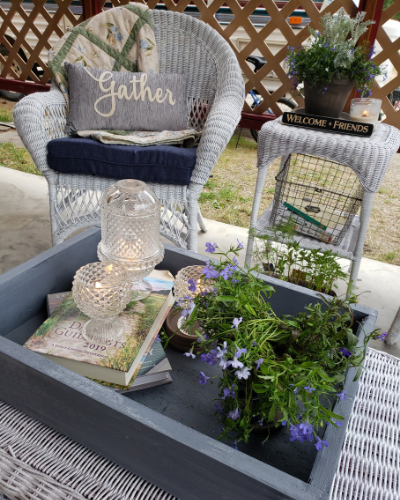 Plants, string/twinkle lights, candles, a blanket completed the COZY aesthetic.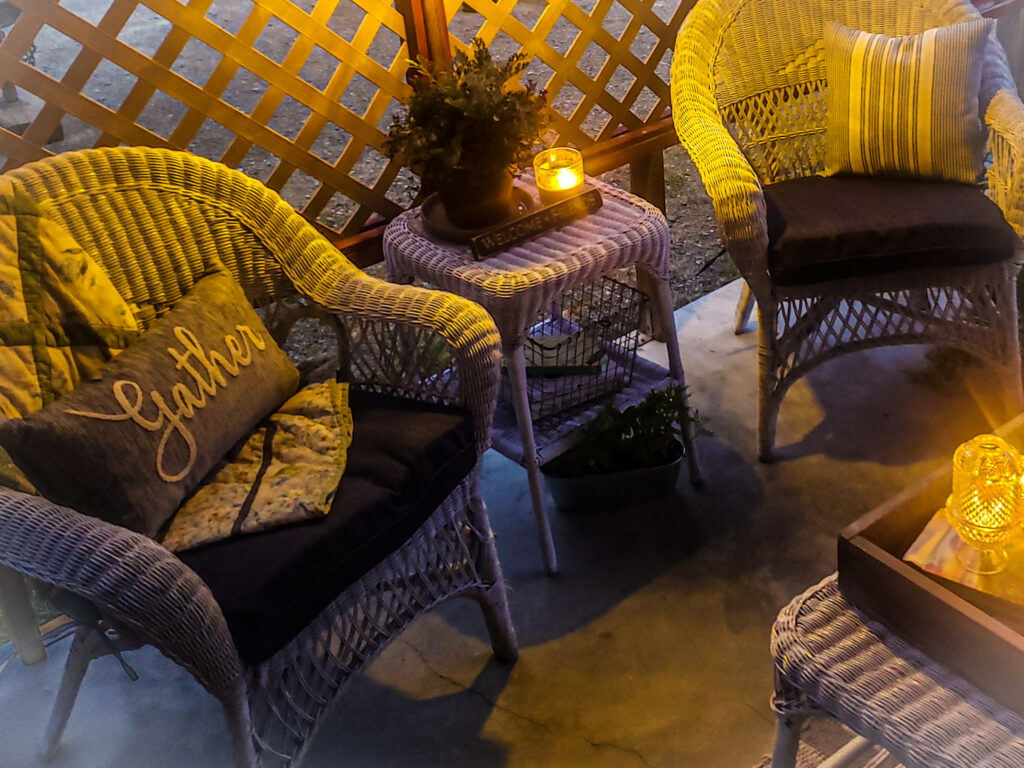 Wicker patio Furniture Makeover AFTER Photos:
I really love the result. It turned out just as I hoped it would. . . very comfortable and inviting. A perfect place for an early morning cup of coffee to start your day or a cool, crisp glass of wine to end it. . .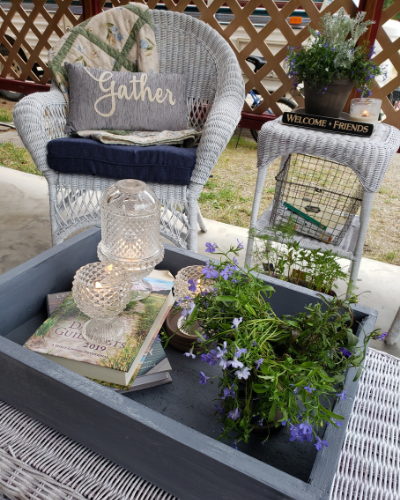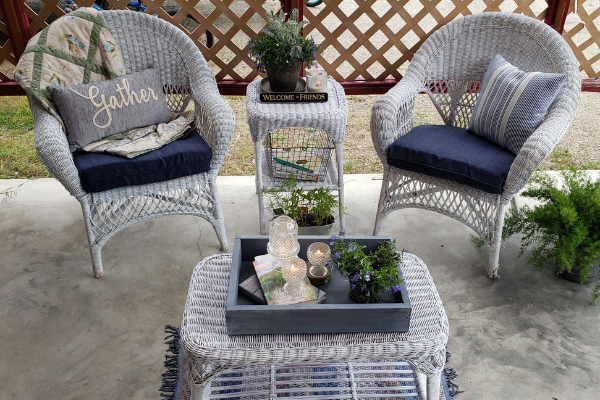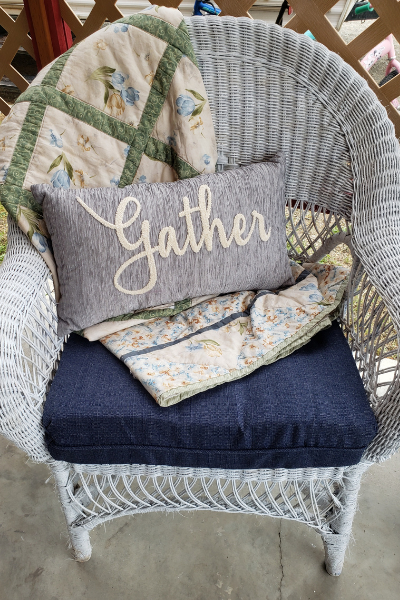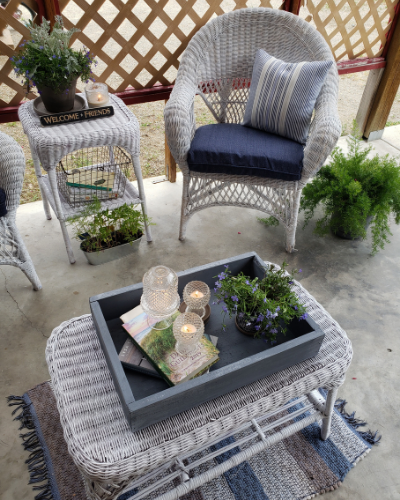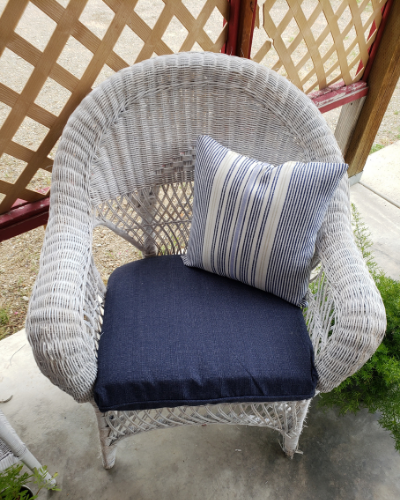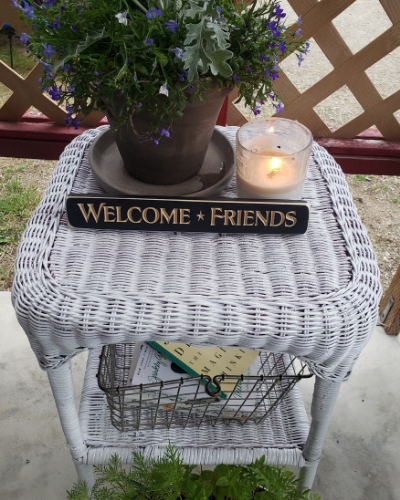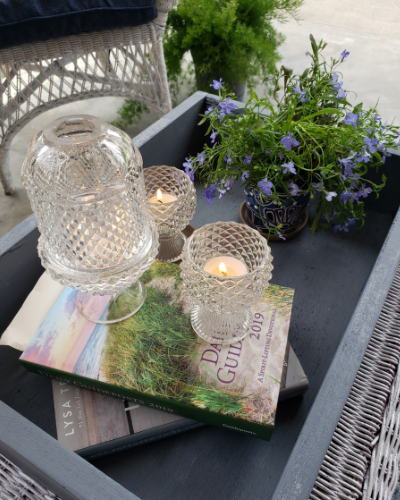 Tools you may need to Makeover Wicker Patio Furniture: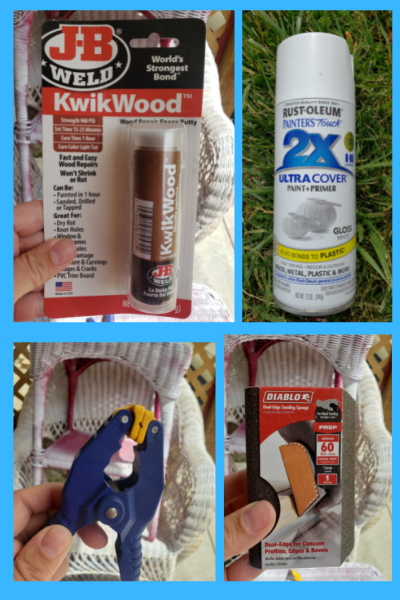 Even our kitties approved of the wicker patio furniture makeover. . .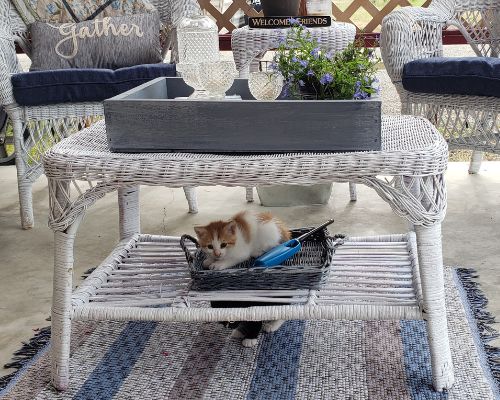 What do YOU think of this Wicker Patio Furniture Makeover? I would love for you to leave a comment below!
Thank you for stopping by and checking out my DIY Wicker Patio Furniture Makeover. This was a fun project and I really enjoyed sharing it with you. What will you find to restore the beauty in?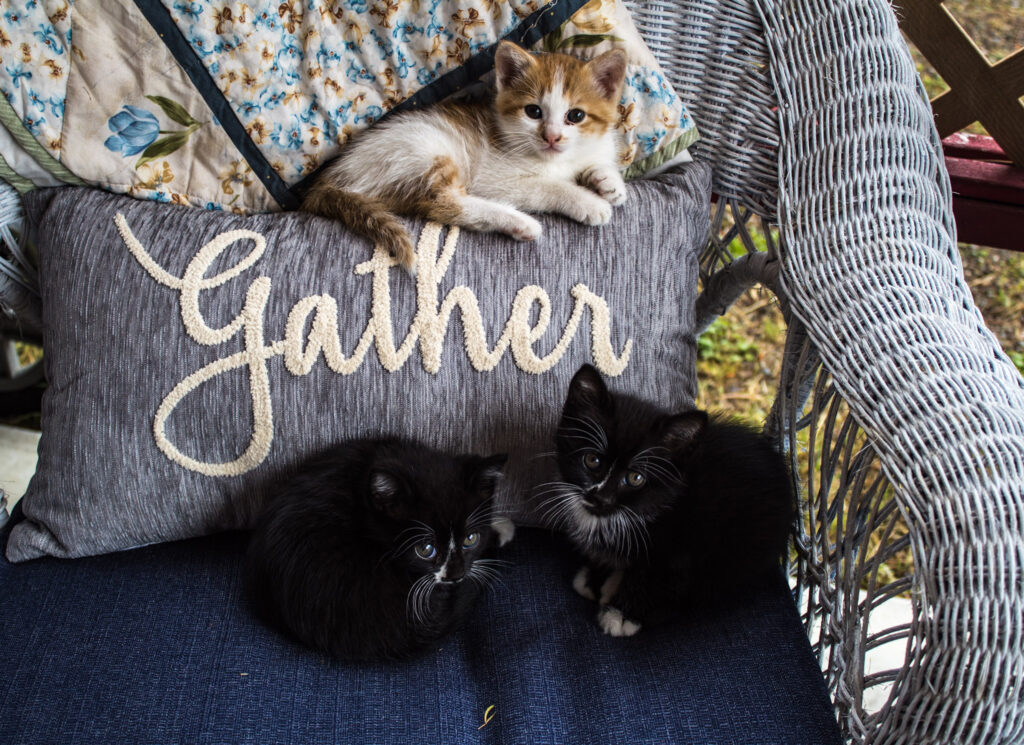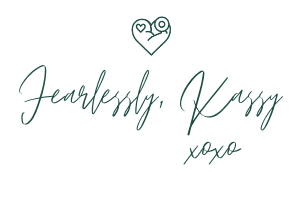 Please Enjoy Another Great DIY Project
Pin it for Later