In honor of SPRINGTIME, I have created a special Free Printable for all of you. This Spring Stationery for the Homemaker set includes: recipe card, shopping list, to-do list, note card, and gift tags. It's all there as a free downloadable print for you to enjoy . . . so HAPPY SPRING and THANK YOU for being a Fearless Homemaker with me.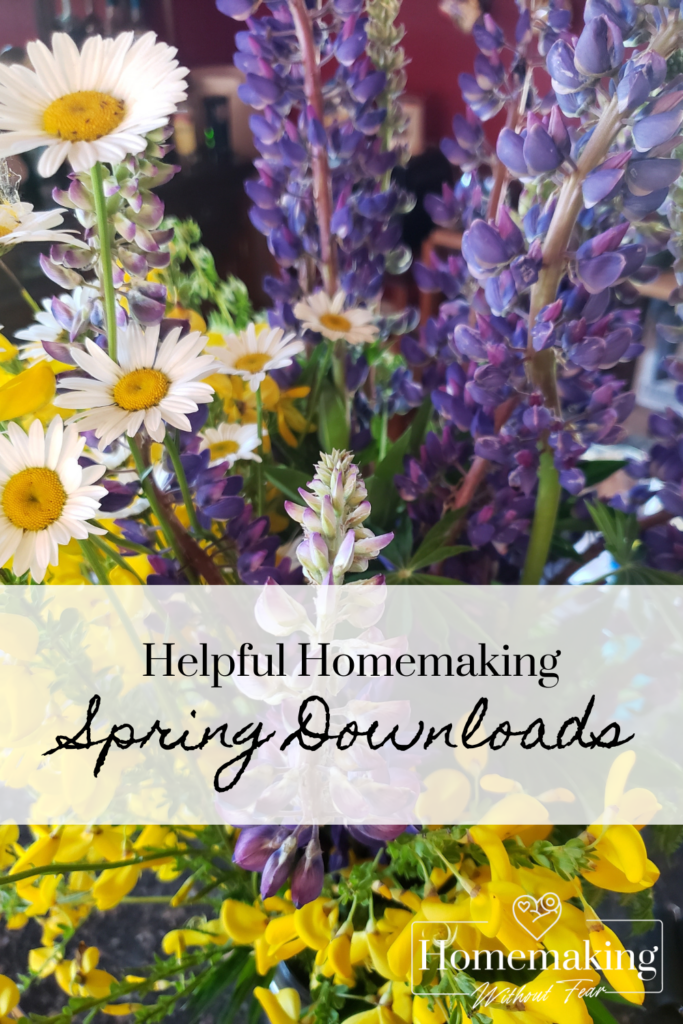 This post may contain Amazon Affiliate Links, which means I make a small commission at no extra cost to you. See my full disclosure at homemakingwithoutfear.com. Furthermore as an Amazon Associate, I may earn from qualifying purchases.
When I was a little girl I spent a lot of time with my great-grandma, Grammy. Grammy loved to play cards, watch TV game-shows and made the best Schwann's chicken nuggets. . . served with ketchup.
Grammy smelled like rose water and baby powder and I loved playing at her house. She had beautiful cursive handwriting and collected all sorts of pretty stationery sets. . . and she let me play with them . . .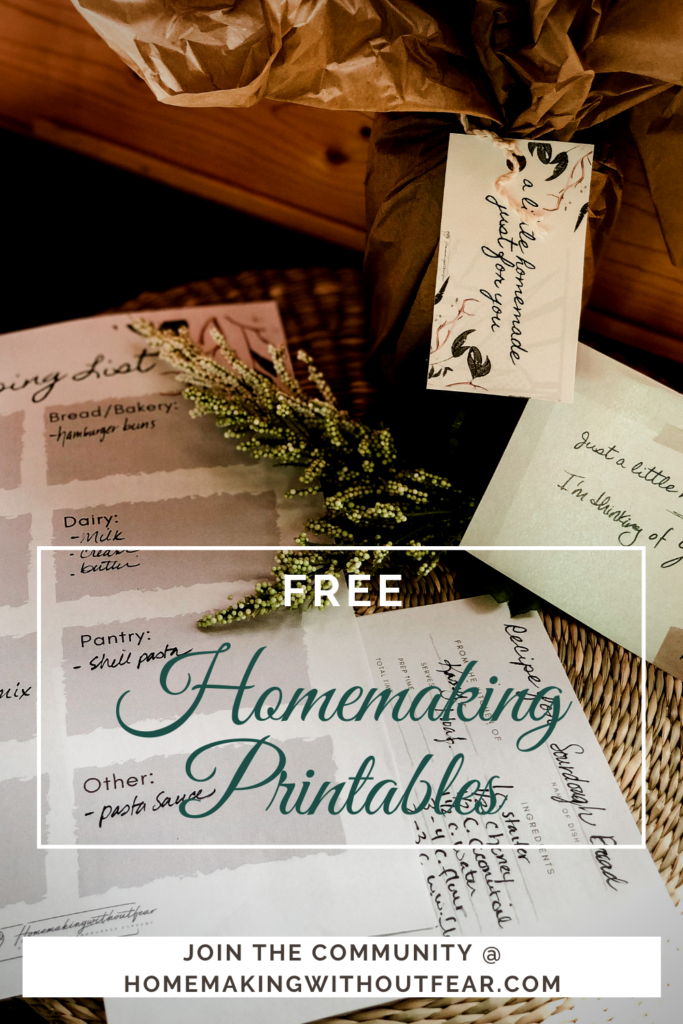 I would write imaginary letters and postmark them in matching envelopes with cute little stickers on the back flap.
Those sweet little paper sets were adorned with birds, spring flowers, baskets of produce or other simple sweet illustrations. They made me SO happy.
Is handwriting a lost art?
We are really missing out on this "old fashioned skill" of sitting down and hand writing on a beautiful piece of stationary. A handwritten note always means so much more to me than a quick text or even an email. To sit town with intentionality and think about the person you are writing to and take time to pen a beautiful note is rare in this digital age. . .
Grocery lists, to-do lists or recipes don't have the same feel in digital form . . . it is so easy to keep a list on our smartphone or copy a recipe and save it in Pinterest and TRUST ME I do this all the time . . . but there is just SOMETHING about putting pen to paper and actually crossing something off a list.
It feels so good!
. . . And those had written recipe cards from family members long ago? Those are just treasures!
When Grammy died I got to keep many of her beautiful sets . . . they are long gone and used up now but beautiful stationery always reminds me of her. In honor of this special lady and the beautiful spring weather I decided to create this fun little stationery set just for YOU.
Here is your Free Spring Stationery for the Homemaker Set: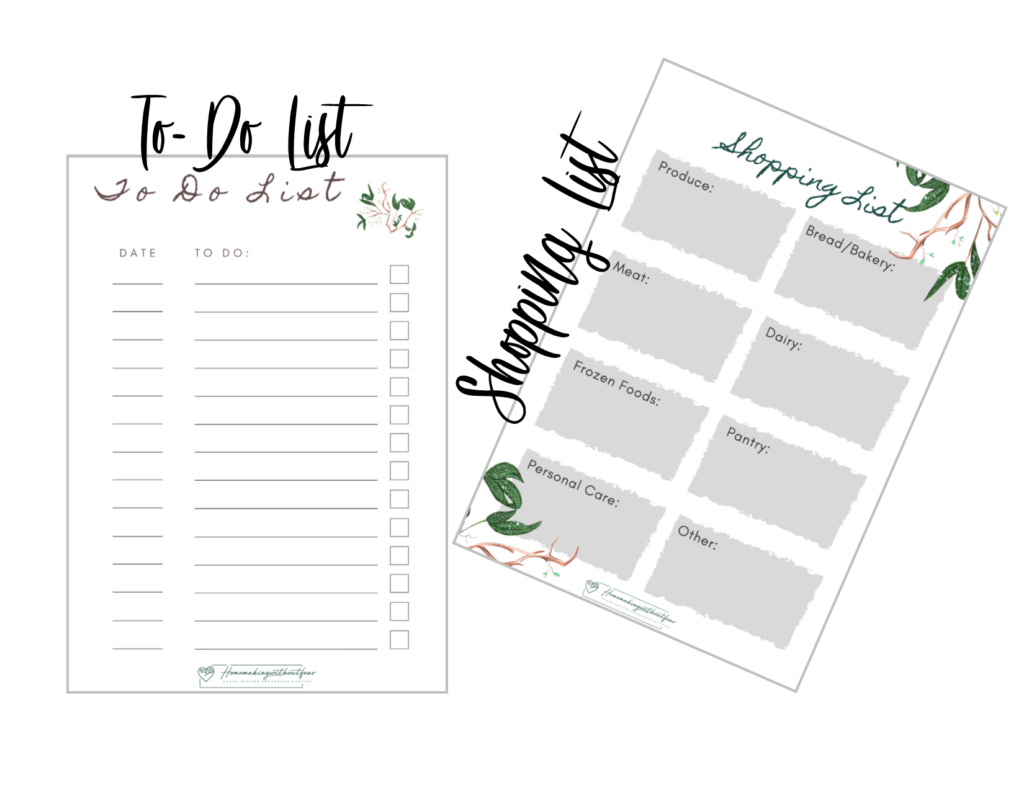 To do List – Spring is all about getting things done and doesn't it feel great to check those to-do's off the list?!
Grocery list – I always keep my grocery list out and accessible so I can easily add things to it as I think them. Why not make it a beautiful one?!
Recipe Card- You can print off a bunch of these and keep your favorite recipes organized on a beautiful folding recipe card. Who knows, maybe it will become a family keepsake?
Note Card – Writing a hand-written note means so much more than a quick text. . . send someone a thoughtful note with this sweet card.
Gift Tag- this tag is designed to punch a little hole in the side and attach it to a special homemade treat. It is always a good idea to brighten another's day with a thoughtful gift.
What you need for printing this Free Homemaking Stationery Set at home.
A PRINTER of Course! – OR – You could take the PDF that I will send you to a print shop and ask them to print these for you. EASY!
Regular Printer Paper for to-do list and shopping list
Cardstock Printer Paper for gift tag, note card and recipe card (the paper I have linked her for you generally works well with inkjet or laser and multi-function printers but check your printer manual to make sure it handle this paper!)
Also if you are a stationary nerd and get real excited about making lists like me . . . you may feel like there is NOTHING better than a great pen . . . and I am going to let you in on the best pen you will ever have the pleasure to write with – Ready for it??? — The Pilot Frixion. It is my favorite and hear this – it is ERASABLE – Love that!
So how do you get the Free Spring Stationery set?
This FREE stationary set is available to ALL my Homemaking without Fear Email Community Members. There is no catch . . . that is it!
Drop your name and email below and I will send you, via email the PDF download. I know your time and your email in box is valuable. I don't take it for granted that you share that info with me.
Thank you for supporting ME and I so hope to always send you notes or messages that add value to you and your homemaking journey .
Bonus: This will automatically add you as a member of the Homemaking Without Fear Community. This means you get FIRST DIBS access to extra and special items or offers just like THIS ONE!
I send out a weekly email to update everyone on Fearless Homemaking happenings, plans for future blog posts, new recipes and homemaking ideas or inspiration. I will also personally send you the link to the most current blog post so you never miss a thing!
This group has been a really POSITIVE and uplifting way to be in community with other Homemakers. If you don't find it to be that for you, feel free to opt out at any time.
I am so glad to have you here. Thank you and Happy Spring!!
Did you enjoy this free Spring stationary for the homemaker set? I have put together more homemaking posts just for you.
Please enjoy our most recent posts:
Pin it for Later